News
2015-07-27
Excitement, intensity heats up on Day 3 of U-12 Baseball World Cup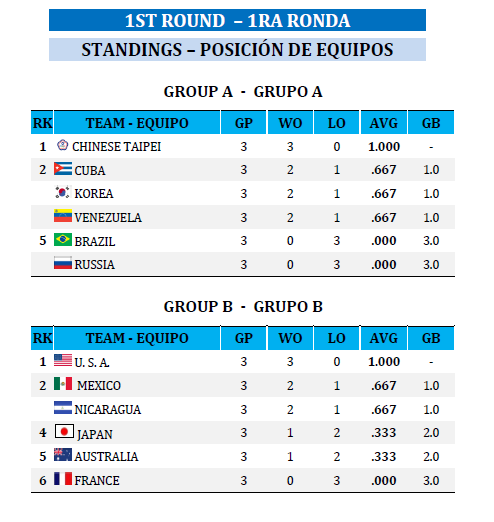 TAINAN, Taiwan – The defending U-12 World Champions United States and host Chinese Taipei pulled off exciting victories against their previously unbeaten rivals to become the two lone undefeated nations after three days of competition at the 2015 WBSC U-12 Baseball World Cup, which opened Friday, 24 July and runs to Sunday, 2 Aug.

Four of the six matches on Sunday were tightly contested and decided late in the game. Qualification into the Super Round is still wide open, with two games still to be played by each team in the Round Robin preliminary.
USA 4, Mexico 2
The world No. 2 U.S. National Team used two home runs -- one by Jack Ryan, who slugged his second home run of the weekend -- to power by the previously undefeated No. 12 Mexican National Team, 4-2.

The U.S. lead the U-12 Baseball World Cup in pitching, with a 1.33 ERA. Mexico ranks second in both hitting and pitching in Tainan, with a .382 batting average and 1.88 ERA.
Chinese Taipei 6, Cuba 5 (7 innings)
In a rematch of the 2011 U-12 Baseball World Cup finale, No. 3 Cuba had No. 4 Chinese Taipei down to their final 2 outs before the Chinese Taipei squad got a double and RBI single to tie the contest, 5-5. With runners positioned at first and second base as part of the WBSC international tie-breaker, and after Cuba did not score in the top of the seventh, Chinese Taipei quickly singled to right but Cuba's right fiedler gunned down the runner at the plate to keep the game alive. The very next batter, Chinese Taipei blasted a base hit over the left fielder's head to push ahead the game-winning run.

Chinese Taipei, with the help of 27 hits Saturday versus Brazil, is batting .500 to lead all nations at the U-12 Baseball World Cup.
South Korea 3, Brazil 0
No. 15 Brazil outhit South Korea four hits to three and showed signs of brilliance on defense before committing three errors, from which No. 8 South Korea was able to capitalize, cashing in on the game's runs via errors. Park Chanjin pitched a complete game shutout for South Korea.

South Korea has yet to commit an error after three games -- and is the only nation at the U-12 World Cup to be fielding 1.000.
Australia 8, France 4
The No. 14 Australian National Team picked up their historic first-ever victory in the U-12 Baseball World Cup, only allowing the No. 27 French National Team three hits, while Aussie hitters collected 10. James Nati earned the win, falling one out shit of a complete game – hitting the 75 count pitch limit. Aussie third baseman Jacob Bald helped power the offense, with two hits and two RBI.
Venezuela 10, Russia 2
No. 10 Venezuela controlled the match with the 2014 European champions from beginning to end, jumping out to a 4-0 lead early. Erick Caripa launched a home run and plated three RBI for Venezuela.

Venezuela ranks third in hitting at the U-12 Baseball World Cup, batting with a .388 success rate.
Nicaragua 5, Japan 1
Starting pitcher Lesther Medrano (5 IP, 8 K, 5 H, 1 unearned run) gave the 2014 Americas champions the opportunity for the 16th-ranked country to top world No. 1 Japan. With the game tied 1-1, Nicaragua's offense, which had been limited to one hit at the time, unloaded for four runs off a walk, back-to-back-to-back hits and a pair of stolen bases.

At the first-ever U-21 Baseball World Cup last November in Taichung (Taiwan), the then ranked No. 28 Nicaraguan National Team programme performed well on the world stage, arriving to the bronze medal match.