News
2021-07-11
Fukushima to bar spectators from Olympic softball, baseball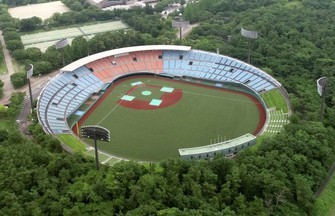 TOKYO (July 10, Kyodo) -- Tokyo Olympics' softball and baseball games scheduled at Fukushima Azuma stadium will be held behind closed doors, Fukushima Gov. Masao Uchibori said Saturday, with the state of the COVID-19 situation still touch and go in Japan.
The Olympic and Paralympic organizing committee said Thursday all events in the Tokyo metropolitan area would be held without spectators after the Japanese government placed Tokyo under another state of emergency until Aug. 22 amid the latest spike in COVID-19 cases.
The two sports, in the Olympics this year for the first time since 2008, will now be closed to spectators in both Fukushima and their tournament's main venue, Yokohama Stadium.
Uchibori had a teleconference with the games organizing committee president Seiko Hashimoto, who accepted the request to ban spectators. The latest development is a setback for the Tokyo Games, originally promoted to show northeastern Japan's recovery from the March 2011 earthquake and ensuing nuclear disaster in Fukushima.
"The form (of the games) has changed due to the battle with the coronavirus. But the essence lives on even if the events are held behind closed doors," Uchibori said.
On Friday, the organizers reversed their original decision to allow a limited number of fans for men's and women's soccer matches at Sapporo Dome in the northern isle of Hokkaido, and those games will now be held behind closed doors.
"There has been a great change to the premise of holding events with fans for those scheduled away from the metropolitan area," said Uchibori. "We've reached the decision to ensure the safe and secure hosting of the games."
Three softball games were scheduled for both July 21 and 22, ahead of the Olympics opening ceremony in Tokyo on July 23. Defending Olympic champion Japan takes on Australia in the very first event of this summer's games on July 21.
Fukushima Azuma stadium is also slated to host the July 28 baseball opener between Japan and the Dominican Republic.
Up to 7,150 fans were to be permitted at games in Fukushima based on Thursday's decision, with the result of the ticket lottery announced earlier on Saturday.
"It's extremely disappointing not being able to meet the expectations of the fans who were looking forward to the events," said Masanori Takaya, an organizing committee spokesperson.
Organizers said events in Ibaraki, Miyagi and Shizuoka prefectures are still expected to allow spectators.
Of the 750 Olympic sessions for which tickets were originally available, only 26, just 3.5 percent, are now expected to have spectators in the stands after fans were barred from events in Tokyo, Saitama, Chiba, Kanagawa, Hokkaido and Fukushima prefecture.