News
2021-05-29
Group assignments and general game schedule revealed for Tokyo 2020 Olympic baseball event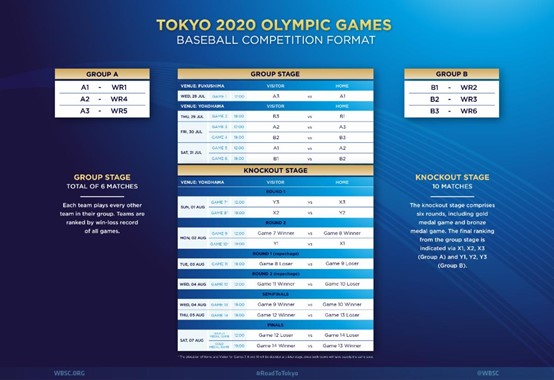 The opening-round group assignments for the upcoming six-team Tokyo 2020 Olympic Baseball tournament will be based on World Baseball Softball Confederation (WBSC) Baseball World Rankings.

Group A will feature the highest-ranked team in the tournament, along with the fourth- and the fifth-highest ranked teams.

Group B will feature the second-highest ranked team, the third-highest ranked team and the lowest-ranked team.

"The Tokyo 2020 Olympic baseball tournament will be unlike any international baseball competition the world has ever seen," said WBSC President Riccardo Fraccari. "The return of our sport in Japan promises to be one of the most exciting and followed spectacles of these Games."

Baseball's Olympic Opening Day

The 16-game Tokyo 2020 Olympic baseball tournament will have a special opening on Wednesday, 28 July, Day 5 of the Olympic Games, at Fukushima Azuma Baseball Stadium. The tournament will then move to Yokohama Baseball Stadium, which is home to the Yokohama DeNA BayStars of Nippon Professional Baseball (NPB).

Unprecedented Olympic Format

The six-team Tokyo 2020 tournament will be played in a format that is unprecedented in Olympic baseball history. The results of group play will determine only the placing of the same six teams in the knockout stage. The six-game opening round will finish on Saturday, 31 July.

The scheme of the opening-round schedule has been decided as follows:

• Wed, 28 Jul: A1 vs A3
• Thu, 29 Jul: B1 vs B3
• Fri, 30 Jul: A2 vs A3; and B2 vs B3
• Sat, 31 Jul: B1 vs B2; and A1 vs A2




Knockout Stage

The knockout stage will take place from 1-4 August and have a double-elimination format. The first-place teams from the group stage will advance directly into what is essentially a quarterfinal on Monday, 2 August. The two second-place finishers from the opening round and the two third-place finishers will play each other on Sunday, 1 August, to open the knockout stage, with the winners of those two contests advancing to the other quarterfinal. The losers' bracket will give another chance for teams to advance.

Semifinals

Winners of the two quarterfinals will meet in the first semifinal game on Wednesday, 4 August, which will send one team to the gold medal game, while the loser will be placed in the second semifinal on Thursday, 5 August. The teams advancing from losers' bracket will determine the other semifinalist.

The medal games are scheduled on Saturday, 7 August.

The four teams already qualified for the six-nation Olympic baseball event include host nation Japan, the Republic of Korea, Israel and Mexico.