News
2021-05-11
IOC chief Bach's Japan visit in May postponed due to coronavirus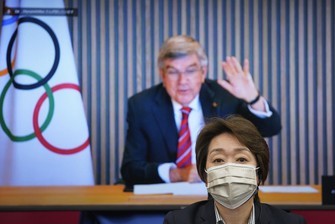 May 10, 2021 (Mainichi Japan)
International Olympic Committee (IOC) President Thomas Bach (on a screen) waves to Tokyo 2020 Organizing Committee President Seiko Hashimoto at the start of a five-party meeting on the Tokyo 2020 Olympic and Paralympic Games in Tokyo, on April 28, 2021. (Franck Robichon/Pool Photo via AP)
TOKYO (Kyodo) -- International Olympic Committee President Thomas Bach's planned visit to Japan in mid-May has been postponed amid a resurgence of coronavirus infections in the country, the organizing committee for this summer's Tokyo Games said Monday.
The decision to reschedule Bach's trip was made after the Japanese government last week extended a coronavirus state of emergency covering Tokyo and several other areas until the end of this month amid a fourth wave of infections.
The visit is set to be rearranged for June, given that the emergency, which took effect late last month, will be lifted by then, officials said.
"By monitoring the coronavirus infection situation and other developments, we will coordinate so he can visit at as early a date as possible," the organizing committee said.
The IOC chief was initially expected to participate in a torch relay event in Hiroshima on May 17 and meet Prime Minister Yoshihide Suga the following day, roughly two months before the opening of the Tokyo Olympics, officials familiar with the planning said earlier.
The postponement of the trip came at a time when the Tokyo Games have been met with opposition at home due to concerns that they can contribute to the spread of the virus and add pressure to hospitals that have been struggling to treat an increasing number of COVID-19 patients.
An online petition calling for the games to be canceled has collected over 300,000 signatures as of Monday evening, less than a week since it was launched.
About 100 people also protested against going ahead with the games on Sunday outside the National Stadium, the main Olympic venue, when the organizing committee held an athletic test event.
The test event was held without spectators due to a surge in infections, but 350 athletes, including nine from overseas, competed.
On Friday, Suga extended the nation's third coronavirus state of emergency beyond its scheduled end on Tuesday in an effort to bring down the number of infections and ease the strain on the medical system.
Seiko Hashimoto, president of the organizing committee, said Friday that Bach's trip to the country would be "very difficult" in the circumstances.
The Tokyo Olympics, scheduled to open on July 23 following a one-year postponement due to the global health crisis, will involve about 11,000 athletes from around the world.