News
2021-04-17
Tokyo Olympic chief denies possibility of canceling games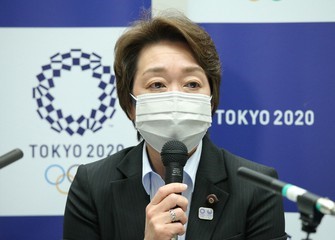 TOKYO (April 16, Kyodo) -- The head of this summer's Tokyo Olympics' organizing body on Friday denied any possibility of canceling the postponed games, despite a recent sharp rebound in coronavirus infections in the capital and elsewhere in Japan.
The denial from Seiko Hashimoto came a day after a powerful figure in Japan's ruling Liberal Democratic Party suggested that canceling the Olympics could be an option if a surge in infections continues, fueling speculation the government has altered its long-held stance on the upcoming global sporting event.
"I'm not thinking about cancellation. By taking measures to ensure safety and security, we are focusing on hosting the games," Hashimoto said at a press conference, when asked about the comments by LDP Secretary General Toshihiro Nikai.
Nikai, the No. 2 ranking member of the ruling party led by Prime Minister Yoshihide Suga, said, "If it's impossible, then it should be called off."
"What is the point of the Olympics if it's responsible for spreading infections? We will have to make a decision at that point," he said while recording a TV program on Thursday.
The number of daily COVID-19 cases in Japan has again been surging, with health experts warning that a "fourth wave" of infections, driven by the emergence of coronavirus variants, is putting more and more strain on the country's medical system.
With less than 100 days to go until the opening ceremony of the Olympics, public support in Japan also remains low over the hosting of the games, with 39.2 percent of respondents in a recent Kyodo News poll saying they should be canceled and 32.8 percent saying again rescheduled.
"Listening to those words had a sobering effect on me," the head of the organizing committee for the Olympics and Paralympics added in reference to Nikai's remarks. "With thorough safety measures, we will continue to make efforts toward staging the games."