News
2021-03-18
CPBL rookie pitcher records all 11 outs in debut via strikeout, behind 95 MPH heat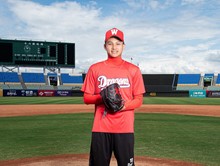 TAICHUNG, Taiwan 17/03/2021
-- In a much-anticipated return of the Chinese Professional Baseball League (CPBL) expansion team Weichuan Dragons, 20-year-old rookie starting pitcher Jo-Hsi HSU wrote baseball history in Taiwan, recording his first 11 outs of his career via strikeout.
Hsu's fastball was electric, touching 154 km/h (95.7 mph).
How it Happened:
• 1st inning: K K K
• 2nd inning: Single K K Single K
• 3rd inning: K K triple K
• 4th inning: Walk K K Pitching change
The Dragons blanked the CTBC Brothers, 4-0, and Hsu was named game MVP.
"We were limiting his pitch count to 70 tonight, so once he recorded the second out in the 4th with pitch count up to 62, we've decided to call it a night," said Dragons manager Chun-Chang Yeh, after collecting his first win as a Dragons manager. "We need to do whatever necessary to protect him; His well-being is way more important than any records."
At the age of 20 years and 136 days, Hsu also becomes the youngest player in CPBL history to collect 11 strikeouts in a game.
The win marked 7,819 days since the Dragons recorded the previous victory, which was on the 20 October 1999, before withdrawing from the league.
"I was just following the instructions given by the coaching staff. I never expected the results to be like this," said Hsu during a post-game interview. "I especially want to express my appreciation to our trainers and rehab/conditioning team; they are the major reason that I am able to be here after my injuries." Hsu went on to have a surgery to remove bone spurs (for the second time in his career) last year after getting signed by the Dragons in 2019.
CPBL opened the season this past Saturday.