News
2021-03-16
CPBL opens baseball season, thrills sports fans worldwide with sold-out crowd in Tainan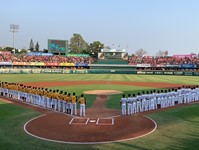 Baseball and Taiwan are helping lead sport's return back to "normal".
TAINAN, Taiwan13/03/ -- The Chinese Professional Baseball League (CPBL) opened its 32nd season in front of a sold-out crowd of 7,800 (following 78% maximum capacity regulations) Saturday night at Tainan Municipal Baseball Stadium, which was a welcomed sight to sports fans around the world.
"Today is CPBL Opening Day in Taiwan," WBSC President Fraccari tweeted. "The packed stadium is a very positive sign of things to come."
New CPBL Commissioner Chi-Chang Tsai urged all the fans to follow the pandemic prevention guidelines established by Center Epidemic Command Center, in order to keep everyone safe and healthy, "so we can enjoy this baseball season."
In the opener, defending CPBL champions Uni-President 7-Eleven Lions met the CTBC Brothers in a rematch of the Taiwan Series 2020. The Brothers took advantage of the Lions' shaky pitchers, who set a new record for most walks issued in a season opener (14), to get the first win, 10-4, of the season. Brothers outfielder Chih-Hao Chang launched the first home run of 2021.
The 2021 CPBL season marks a new chapter in league history, as one of the founding franchises, the Wei Chuan Dragons, which withdrew from the league in 1999, officially returns as an expansion team. The Dragons will make their debut on the 14th of March, as they play the Lions in Tainan, before making their homefield debut on the 26th of March in Tianmu Baseball Stadium in Taipei.
Due to the pending scheduling of the WBSC Baseball Final Olympic Qualifier, which is going to be held in Taiwan, the CPBL has only released its first-half season schedule. The league plans to put the season on hold for the Final Qualifier and subsequently for the Olympics, as well. Each CPBL team will play 120 games split between two half-seasons, with qualified teams advancing to the postseason.
In 2020, CPBL was one of the first sports leagues in the world to open its season amid the outbreak of COVID-19. With one of the most successful pandemic prevention programs in the world, the league first opened the season behind closed doors in April, then opened the gates to welcome as many as 15,600 fans (78% of capacity allowed) back to the stadium. All but one of the best-of-seven Taiwan Series was sold out, as the Lions clinched their league-leading 10th title. The league also provided an English language broadcast to meet the demands of sports fans around the world.