News
2021-01-22
Inaugural Asia Cup Baseball5 postponed for COVID-19 reasons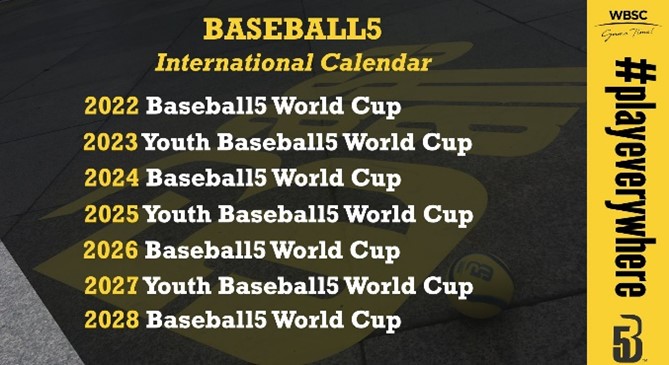 • Thursday, 21 January 2021
The Asia Cup Baseball5 tournament has been postponed indefinitely as a consequence of the coronavirus crisis.
The Asia Cup will be a qualifier for the World Baseball Softball Confederation's (WBSC) Baseball5 World Cup - the first edition of which is now scheduled to be held in 2022.
Before the global health crisis began to wreak havoc on the sporting calendar, Malaysian capital Kuala Lumpur had been due to stage the first Asia Cup Baseball5 tournament in April 2020.
"Baseball Federation of Asia (BFA), Softball Asia (SA) and the WBSC-Asia Baseball5 Commission will review the situation in April-June 2021 to see if it is possible to plan more definitely to hold the Asia Cup Baseball5 qualifiers in the later part of 2021 or early 2022," said Beng Choo Low, chair of the WBSC-Asia Baseball5 Commission.
Choo Low is also WBSC secretary general and SA President.
Late last year, plans were revealed by the WBSC to hold the Baseball5 World Cup - a mixed gender event - in even years starting from 2022.

In addition, the Baseball5 Youth World Cup, for players aged between 14 and 18, will take place in odd years starting from 2023.
The 2025 tournament will serve as a qualifier for the Dakar 2026 Summer Youth Olympic Games in Senegal, where the street discipline has earned a place on the sports programme.
Baseball5 is an urban discipline with five players on each side, and is increasingly being championed by the WBSC.
Only a rubber ball is needed and Baseball5 is said to bring baseball to previously inaccessible areas.
Any playing surface can be used, there is no pitcher and hitting is done by hand.
It was formally approved by the WBSC Executive Board as a format of baseball and softball in December.