News
2021-01-20
London 2012 official speculates Tokyo Games 'unlikely' to happen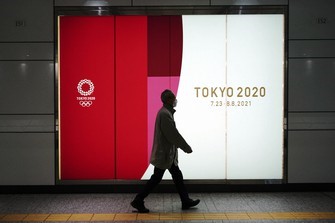 GENEVA (Kyodo) -- Keith Mills, deputy chairman of the London Organizing Committee for the 2012 Olympic Games, told the BBC Tuesday January 19 he would be preparing for cancellation if he was in charge of the Tokyo Games.
"Looking at the pandemic around the world, in South America, in North America, in Africa and across Europe, it looks unlikely, I have to say," Mills told BBC Radio 5 live.
"If I was sitting in the shoes of the organizing committee in Tokyo, and thankfully I'm not, I would be making plans for a cancellation and I'm sure they have plans for a cancellation. They've got another month or so before they need to make a call," he said.
Despite organizers insisting that there is no question of canceling the games, Japanese public opinion has seemingly turned against holding them. A recent Kyodo News survey found around 80 percent of respondents want a cancellation or postponement.
The Japanese capital and surrounding areas are currently in a state of emergency after a surge of coronavirus cases. The central government's second state of emergency covers 11 of the country's 47 prefectures and will last until Feb. 7.
"It's not just the infections in Tokyo, it's the infections in all the competing nations. The challenge is whether enough competitors and enough countries can visit Japan and make it a really viable games," Mills said.
Earlier Tuesday, Japan's top government spokesman Katsunobu Kato said arrangements are being made to "hold a safe and secure games, even without making vaccines a condition."
The Tokyo Olympics are scheduled to open on July 23.