News
2021-01-19
Samurai manager Inaba wants Tokyo Olympics to unite entire Japanese baseball world and inspire younger generations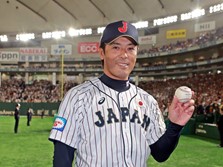 The skipper said his only regret of his distinguished playing career is not winning a medal at the Olympics after finishing fourth with Japan at the 2008 Beijing Olympics. "I don't want the players to feel that way," he said.
Atsunori INABA, the manager of Samurai Japan National Baseball Team, is trying to build a team capable of showing cohesion and unity, as baseball returns to the Olympic programme this summer.
The 2008 Olympian announced his mantra for the year - cohesion/team unity - in Kanji, which is a traditional activity at the beginning of each year, as a key part to achieving his goal of winning a Tokyo 2020 Olympic gold medal.
"I want to unite all the people and fans, and I want to make the Olympics a place where we can share our joy," Inaba said. "Unity is the foundation of a team. I don't mean only unity between the 24 players and the coaching staff, I'm talking about the unity of the entire Japanese baseball world, including players of each generation and the fans."
Inaba, who finished fourth with Japan at the 2008 Beijing Games after losing to USA in the bronze medal game, also wants the Olympics on home soil to inspire generations of new players and fans.
"We want to give back to baseball once again because we were raised in baseball. We want to regain the brilliance of baseball by winning a gold medal. Japan has a rich baseball history, however, nowadays fewer children grow up playing baseball. Winning a gold medal would hopefully stimulate children to become the next Samurai Japan," Inaba said.
Inaba led Samurai Japan to their first WBSC Premier12 title in 2019. It was the first major international win for the Japanese National Baseball Team since the World Baseball Classic 2009.
"I watched the last [Nippon Professional Baseball - NPB] season with interest," Inaba was quoted on the Samurai Japan website. "I saw some players, who were on the Premier12 roster, improve. I was also impressed by young players like pitcher Kodai SENGA of the Fukuoka SoftBank Hawks. Together with my staff, we are considering 180 players (for the Japanese Olympic Baseball roster). It will need a lot of work to cut the number down to the final 24."