News
2020-05-23
NPB may announce season start when state of emergency ends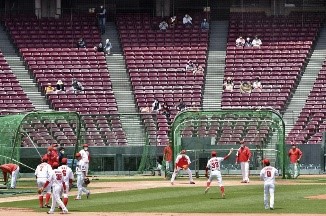 TOKYO (Kyodo) -- Japanese pro baseball inched closer toward opening its season Friday, when Commissioner Atsushi Saito said an announcement could follow the end of the state of emergency declared over the novel coronavirus pandemic.
He said the Japanese government is expected to declare an end to the state of emergency on Monday, the same day Nippon Professional Baseball holds an online meeting of its 12 teams' representatives.
"Ideally, the government will make its declaration before our meeting," Saito said. "There will be some details to be discussed, with the players association and so on, but we should be able to announce the practice and season schedule in short order."
Earlier on Friday, Saito and other NPB executives met online with their counterparts from pro soccer's J-League and heard advice from public health experts about how to move forward with their seasons amid the public health crisis.
"If the state of emergency is lifted on Monday and it includes Hokkaido, then we will be ready to go," Saito said. "We will have a Japan Series, but we haven't made a final decision on the status of the (postseason playoff) Climax Series. We could hold an abbreviated version because our priority is a longer regular season."
Team executives have talked about opening the season, originally scheduled to start on March 20, on June 19 at the earliest. Saito said teams would not be given a full month to practice between the time the announcement is made and opening day games are played.
When quizzed about testing for infections, he admitted it was a huge issue, but policies and procedures needed to be hammered out in advance.
"Anyone can say, 'We're going to test,'" Saito said. "But it's easier said than done."
"Who is going to be tested? How often? Under what circumstances? Who is going to handle the testing? Will we need to establish a large central testing facility? Which tests will we do? What will we do with those who test positive?"
"All those details must be decided first."
One thing not in doubt, Saito said, was players' salaries.
In the United States, Major League Baseball owners have opened a public debate by complaining about the pandemic's financial cost and leaking proposals for players to take bigger pay cuts.
"At this stage we are not even thinking about something like that," Saito said.