News
2019-05-17
WBSC reveals groups, bracket for U-18 Baseball World Cup 2019 youth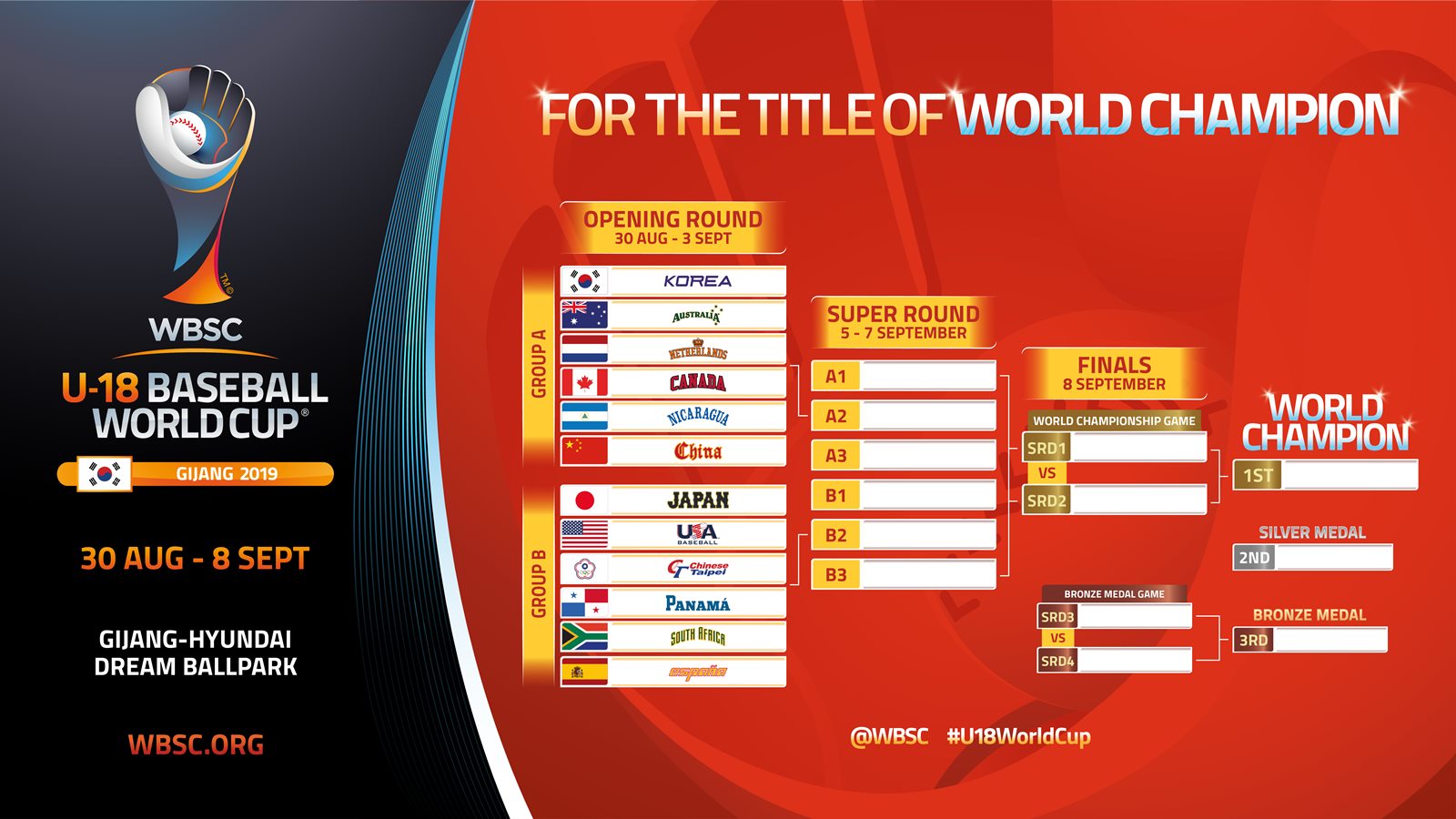 LAUSANNE, Switzerland - 16 May 2019 - The World Baseball Softball Confederation (WBSC) today unveiled the group draw and tournament bracket for the XXIX WBSC U-18 Baseball World Cup® 2019, which will be staged from 30 August to 8 September at Gijang-Hyundai Dream Ballpark in Gijang, Republic of Korea.

Host and 2017 runner-up No. 3 Korea will headline Group A, together with the top teams in Oceania and Europe -- world No. 7 Australia and No. 8 Netherlands -- and No. 10 Canada, No. 15 Nicaragua and No. 20 China.

Group B features world No. 1 Japan, four-time defending U-18 World Cup Champions USA, No. 4 Chinese Taipei, No. 13 Panama, No. 23 South Africa and No. 26 Spain.

"Both groups feature the best youth teams and players in their respective nations and in the world, and this will create a very intense Opening Round," said WBSC President Riccardo Fraccari. "The Under-18 Baseball World Cup is one of the most prestigious international events in the youth sports space, with players who have done well here going on to stardom and securing some of the most lucrative contracts in sports."

The top three teams from Group A will play the top three teams from Group B in the Super Round from 5-7 September, with the top two teams meeting in the Final match For the title of World Champion on Sunday, 8 September.

The highly anticipated official promotional video of the WBSC U-18 Baseball World Cup 2019 is due to be released in late June/early July.

Gijang-Hyundai Dream Ballpark, the largest baseball-theme park in Korea, is the site of the XXIX WBSC U-18 Baseball World Cup. The Korea Baseball Softball Association (KBSA) will host one of WBSC's jewel events in collaboration with Gijang County and the nation's Ministry of Strategy and Finance, and Ministry of Culture, Sports and Tourism.

The official website of the WBSC U-18 Baseball World Cup has been launched at https://u18bwc.wbsc.org, across six languages, including English, French, Japanese, Korean, Spanish and Traditional Chinese.

The U-18 Baseball World Cups, along with its continental qualifiers, have consistently featured players who have gone on to become some of the biggest names in the sport, such as Japan's Yu Darvish and Shohei Ohtani; Korea's Shin-soo Choo; Cuba's Yasiel Puig and Aroldis Chapman; and Clayton Kershaw, Bryce Harper, Francisco Lindor, Manny Machado and Buster Posey, who all played for USA Baseball's U-18 National Team.