News
2019-03-06
Fraccari calls for baseball to modernise and become more global as Florida awarded 2021 Under-18 World Cup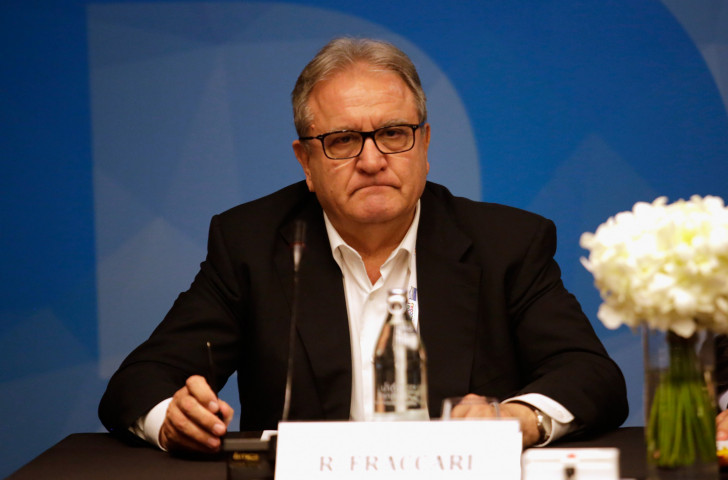 (InsidetheGames, 5 March 2019) Baseball, which will not be a part of the 2024 Olympic Games in Paris, has to work harder to modernise and show it is a global sport, according to Riccardo Fraccari, President of the World Baseball Softball Confederation (WBSC).
Fraccari's call came at today's press conference at the Powel Crosley Estate officially announcing that the WBSC has awarded hosting of the 2021 Under-18 World Cup to the cities of Sarasota and Bradenton in Florida – which will mark the first staging of an event of similar stature in the United States since the 1995 hosting of the Junior World Championship.
"We will see the top young players in the world, and I am sure we will have a very successful event," Fraccari, who heard earlier this year that his sport, which is returning to the Olympics at Tokyo next year after missing the last two Games, is unlikely to be considered for the programme at Paris 2024, said.

"I think it is a moment to show that baseball is not any more only one local sport, but that it is a global sport.
"Because I think more and more baseball needs to be more international and to fight with many other sports.
"I think that international federation that baseball has to discover a new feeling and to attract the youth.
"Because if you look at the sport that the IOC has put in the Olympic Games – they are not even the five per cent of our sport, but they are something special.
"So we have to modernise, in my opinion, our event, to change to discipline.
"We have to be more appealing and for that reason the international federation is this season doing things to modernise our event, even for the youth, with new disciplines – with for instance basebal5, which is like basketball 3x3.
"We have to really understand that society is changing and that the youth is needing something more and asking something more."
WBSC President Riccardo Fraccari has called for his sport to make greater efforts at modernisation and globalisation as part of its campaign to regain Olympic status beyond the 2020 Tokyo Games

Baseball5 is a new five-on-five, five-inning street version of the game of baseball/softball that can be played anywhere.
It has been enthusiastically espoused by Fraccari.
"This faster urban discipline will help drive baseball and softball to new places not possible before," he commented.
Asked to comment on the sport's Olympic position, he responded: "The problem in Paris was partly because the athletes in the Olympic Park are only 10,500.
"In Tokyo the number for the additional sports was 500. In Paris, only 100.
"So it means that for team sports like us it is difficult.
"Apart from that the problem was that the facilities for our sport in Paris are not so strong.
"To be at the Olympics is important to show as a global sport.
"Soccer wants to be there.
"Because they feel is the maximum stage for their benefit."
He added that when baseball, which became an official Olympic sport at Barcelona 1992, was voted out of the Games after Beijing 2008, the sport lost $500 million in terms of IOC funding and support.
"To be in the Olympics is important for all the Federations," Fraccari said.
"In Tokyo we will be the number one sport for sure.
"I think they will sell out."
The United States have won the last four editions of the WBSC Under-18 World Cup, including at Thunder Bay in Canada two years ago and will be aiming for a fifth title at Gijang in South Korea later this year ©USA Baseball
The 30th edition of the Under-18 Baseball World Cup is due to take place in September 2021 and feature the world's best players from 12 countries.
As host nation, the United States - current four-time defending champions, including at Thunder Bay in Canada two years ago - will have an automatic qualification.
All 50 Under-18 World Cup games will be played at either Ed Smith Stadium or LECOM Park - the spring training homes for Major League Baseball's Baltimore Orioles and Pittsburgh Pirates, respectively.
Later this year the United States will seek to win an unprecedented fifth Under-18 Baseball World Cup when the event is held at Gijang, in South Korea, from August 30 to September 8.
"USA Baseball presented an excellent bid, vision and venue plan for one of youth sport's most prestigious World Championships, the Under-18 Baseball World Cup," Fraccari added.
"The world's best young players and next generation of superstars will have an iconic stage-the same stadiums where top professionals play and train-to perform and showcase their talents to the passionate fans in the stands and those watching across the world.
"While the sport of baseball has never been as global as it is today, there has never been a more opportune time to bring the Under-18 Baseball World Cup back to the US where baseball, together with softball, has furthered its position as the most practised team sport, with participation numbers increasing over 20 per cent to 25 million over the last five years in the US alone."
USA Baseball President Mike Gaski responded: "USA Baseball is honoured to be selected to host the U-18 Baseball World Cup and we aim to provide a truly once-in-a-lifetime baseball experience to the athletes and fans who take part in this premier event."