News
2019-01-27
32 teams picked for spring high school baseball tournament - Japan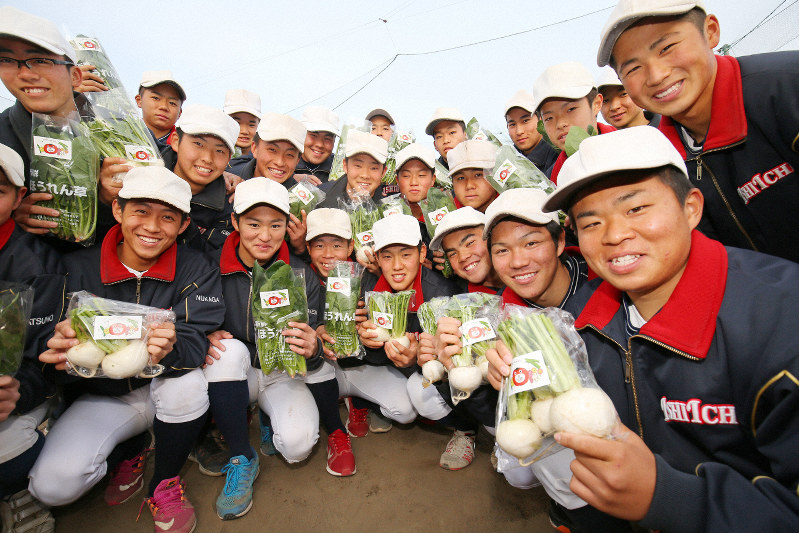 OSAKA January 26, 2019 (Mainichi Japan) -- A total of 32 high school baseball teams were finalized for the 91st National High School Baseball Invitational Tournament at a selection meeting here on Jan. 25, bringing joy to players participating in the prestigious annual spring event commonly known as "Senbatsu."
The screening committee chose 29 high schools from a general selection quota and three schools in the 21st century invitation slot, which extends a hand to schools that have overcome difficulties or have shown exemplary behavior or have had positive impacts on their communities, during a meeting held at the Mainichi Newspapers Osaka Head Office in Osaka's Kita Ward.
Ishioka First High School in Ibaraki Prefecture northeast of Tokyo, Tomioka Nishi High School in Tokushima Prefecture in western Japan, and Kumamoto Nishi High School in Kumamoto Prefecture to the south, were handed the 21st century slots. A draw for the 12-day tournament, which will start on March 23 at Hanshin Koshien Stadium in Nishinomiya, Hyogo Prefecture, is scheduled for March 15.
First-timer Ishioka First High School pledged to do its best in the competition. Formerly an agricultural school, about 40 percent of its 49 baseball team members study in agriculture-related courses. They were inspired by Kanaashi Agricultural High School in northern Akita Prefecture reaching the final in last summer's National High School Baseball Championship, which caused a sensation across the country.
When the news of the school earning a berth in the upcoming spring competition was delivered by the principal, Ishioka's captain Atsushi Sakai commented, "We'd like to play well at Koshien Stadium for the sake of our alumni players and local community, who always lend their support to us."
Due to school curriculums focusing on practical studies, baseball team members rarely get to play together after classes on weekdays. In order to maximize their limited time together -- 2 to 2 1/2 hours per day -- members practice in three groups batting and throwing. When night falls, they make the most of what few lights they have, practicing batting in the infield and running in the outfield. These strenuous efforts led them to the semifinal in the prefectural tournament last fall.
Ace pitcher Daichi Iwamoto, who majors in landscaping, is aspiring to "pitch in my unique way at Koshien." He models himself after Kosei Yoshida, a wildly popular former Kanaashi hurler who was drafted into the Hokkaido Nippon-Ham Fighters pro baseball team.
Koshien has also been a dream stage for local residents. "I'd like our team to stay grounded and win the first game by playing full out," said team manager Shohei Kawai, 44, who himself has experience playing at the legendary stadium as a student at Ryugasaki 1st High School in the same Ibaraki Prefecture. "I've always wanted to see my team members play there. I couldn't wish for more," a teary Kawai said.
The tournament is sponsored by the Mainichi Newspapers and the Japan High School Baseball Federation and supported by the Asahi Shimbun and Hanshin Koshien Stadium.