News
2018-10-24
Koshien Players as 'Japanese Gods': Why We're Crazy About High School Baseball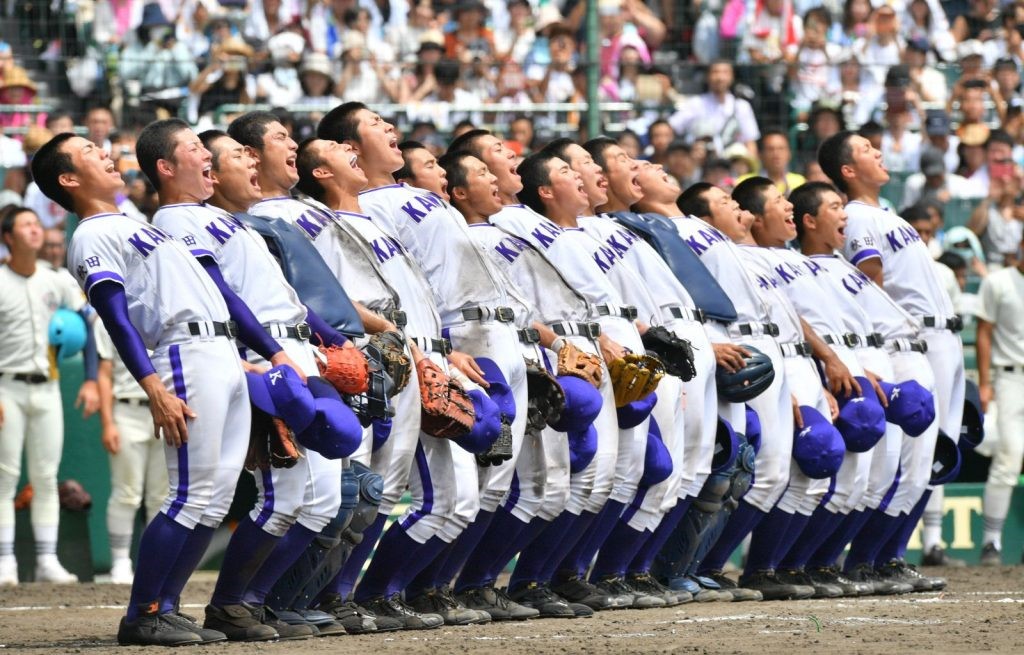 (Robert Whiting October 23, 2018 from Japan Forward) Why is high school baseball so popular in Japan? Why does the nation stop to watch, transfixed, from morning till evening, on NHK TV each March, when the national high school invitational baseball tournament is held, then repeat the process in August even more intently when the national championship tournament is held? Why is the drafting of a high school star into the pros each fall headline news, as it was last autumn when the Nippon Ham Fighters won the rights to 18-year-old superstar Kotaro Kiyomiya of Tokyo's Waseda Jitsugyo High School? Foreign visitors, especially Americans, ask these questions when they visit Japan because they have never seen such phenomena. But, increasingly, I find Japanese asking the same question because they don't know their own history.


How It All Started

Baseball started in the United States in the mid-19th century as a so-called "Town Sport," a Sunday amusement for gentlemen of leisure. It developed into a popular professional sport when the first all-pro team formed in Cincinnati in 1869.
The National League was established in 1876 and the American League created in 1901. The first World Series in 1903 played to overflow crowds.
High school and college baseball were afterthoughts in North America and never really generated a mass following.
In Japan, by contrast, the game started as an amateur sport in the early Meiji era. Introduced by a visiting American professor at Kaisei Gakko, it developed a huge national following long before Japan's first professional league started.


Popularity Explodes After Competition with Americans

The catalyst for baseball becoming Japan's national sport was a series of games played in 1896 between Tokyo Ichiko (High School) and a team of Americans for Yokohama Country and Athletic Club (YCAC).
Tokyo Ichiko was an elite prep school for students aged 18-22 being groomed for the Imperial University, where the movers and shakers of Japan were produced. The games were the first formal contests ever held between Japanese and American squads and they attracted national attention.
The Americans had regarded the Japanese game so inferior that they refused many earlier requests to play. It was only after intervention from the Foreign Ministry of Japan that the YCAC agreed to the contest.
However, much to everyone's surprise, Ichiko's team won three in a row by the startling scores of 29-4, 35-9, and 22-6, becoming front page news in Japan's daily newspapers.
At Ichiko, the majority of students came from samurai families and had grafted martial arts philosophy — endless training and development of spirit — on to baseball. They practiced every day of the year, rain or shine, intense heat or freezing cold, attending baseball camps during summer and winter vacations. Use of the world "ouch" was forbidden because it was considered a sign of weakness. A player hit in the nose with a fastball and in extreme pain was allowed only to use the word "kayui," or "it itches."
Ichiko's superior training in the fundamentals of baseball made all the difference in its matches with the Yokohama squad, a team that was comprised of traders, missionaries, and diplomats who played baseball in their leisure.
The games were also symbolic. Japan was still trying to catch up with the more industrially advanced West. The thinking was if Japan could beat America at its own game, then surely it could prevail in industry and commerce as well.


Baseball — a Japanese National Sport

The popularity of the game spread as a result of the widely reported victories and many other schools and university squads copied the Ichiko way.
Yakyu (Field Ball), as it came to be known, quickly became the national sport. In 1915, the daily Asahi Shimbun sponsored a national high school summer baseball championship tournament, which was soon the most popular sporting event in the land.
The fever over some games, such as Keio-Waseda matches, drew massive crowds and incited so many riots between competing oendan or cheering squads that games between those two universities were canceled for several years.
When mammoth Koshien Stadium, with a capacity of over 60,000, was constructed near Kobe in 1924, it became the new home of the tournament. The summer championships have been played there ever since to capacity crowds, with the exception of four years during World War II.
The tournament has grown to 49 teams. To get there, roughly 4,000 high school teams nationwide are culled down in single elimination play over a span of 15 days.
The abbreviated spring invitational tournament was added in 1924, sponsored by the Mainichi Shimbun.


Capturing the Japanese Public's Imagination

During an era when major league professionals Babe Ruth and Lou Gehrig were monopolizing the headlines in the United States, it was the high school game that captured the imagination of the Japanese public.
By the time the first professional Japanese league was formed in 1936, headed by the Tokyo Giants and the Osaka Tigers, the spring and summer high school tournaments were the two most popular sporting events in the land.
The professional game gained in stature over the years — thanks to the emergence of such stars as Sadaharu Oh and Shigeo Nagashima, and later Ichiro Suzuki and Hideki Matsui who went on to play in MLB. However, Koshien has retained its place in the national consciousness — thanks to the heroic feats of the players.
There was right-handed Takehiko Bessho, who pitched the final of the 1941 tournament with a dislocated left arm bound in a sling. World home run record holder Sadaharu Oh led Waseda High School to victory in 1957, despite a painful rupture on his pitching hand that caused blood to drop from his fingers. Koji Ohta pitched four consecutive complete games on consecutive days leading into the final of the 1969 summer tourney, pitched 18 innings of a scoreless tie, and then pitched nine innings the next day in a 4-2 loss.
Future Yomiuri Giants star Kazuhiro Kiyohara hit two homers in the 1985 final to secure the title for his team. Daisuke Matsuzaka threw a 148-pitch complete game, then followed that with a 17 inning 250 pitch effort, a relief appearance the next day and a complete game no-hit, no run win in the final.
It is no wonder famed film director Masahiro Shinoda declared Koshien players to be "Japanese gods."


Samurai Spirit Found in Japanese Baseball

Observers have called the high school game in Japan an "ode to fighting spirit," and a "celebration of the purity and spirit of Japanese youth.Shaven-headed youths march lockstep into the stadium, regional flags held proudly aloft, and make a fierce vow to uphold the spirit of the sport.
Games feature a profusion of maniacal head-first slides, batters streaking wildly to first base on ordinary walks, and teams dashing madly on and off the field between innings. Students play with such intensity that the losers unashamedly break into tears.
In the stands, rival cheer groups in black school uniforms yell through plastic megaphones, waging a vocal battle as intense as the one on the field. Mini-skirted pom-pom girls and student brass bands add their all-out support.
By midday in the summer, temperatures are so boiling hot that majorettes' batons and the players metal bats become too hot to handle if left in the sun.
The Olympian standards of decorum are on view. Dubious umpiring calls go unchallenged. Hit batsmen receive an apologetic bow from the pitcher and the sacrificial bunt is laid down at every conceivable opportunity.
At the end of each contest, the participants immediately dash to home plate where they line up, remove their caps, and bow deeply to one another.


Discipline and Deference

In post-game interviews, Koshien athletes answer questions with the ramrod deference of military academy plebes. Such behavior, school officials will tell you, is part of their education.
Indeed, most of the students appearing at Koshien have undergone a brutal training regimen, inspired by Ichiko, that resembles a year-round military boot camp. Typically, players live in team dormitories and must practice several hours a day.
At Shohei Ohtani's alma mater Hanamaki Higashi, there's no soda, no junk food, and no instant ramen. Girlfriends are prohibited. Access to cellphones is limited to two hours a day. In winter, practice has been known to go past 9 P.M., even in the snow.
Pro scouts attend every tournament game, searching for potential talent. However, even those players who fail to get contracts can find employment in large companies that sponsor semi-pro industrial league teams or businesses that value the discipline and commitment displayed by high school players.



Koshien's Style of Training Also Has Critics

Koshien has come under criticism for its intense training and overuse of young pitchers' arms, which some American sports doctors have called "child abuse." That may be a reason the Japan Sports Agency recently recommended limiting training to five days a week.
But that has been studiously ignored by coaches and players alike. Getting to Koshien is too important for more than one reason.
For example, Yuki Saito logged 948 pitches over two weeks in the 2006 tournament, leading his school — Kazei High School of Okayama — to the championship in a game in which Masahiro Tanaka, now with the Yankees, was defeated in an epic battle in the final.
Saito's pitch count was four times the number of pitches allowed in most North American schools. He later suffered arm trouble affecting his career in the pros. But he insists that he has no regrets.
"I won Koshien," he was quoted as saying, "That's something you can never take away."


The Tournament's Special Role in 21st Century Japan

The Summer Koshien tournament is highly symbolic. With the massive shift of Japanese from rural to urban industrial areas after the end of World War II, the tournament became one of the few remaining ways people have of displaying regional loyalties.
It takes place during the obon holidays, the centuries-old Buddhist festival of paying respect to one's forebears, a time when cities empty out and workers take leave to return to ancestral home towns to visit relatives and family graves.
Each Koshien entry has won intensely contested regional tournaments. Banner-waving supporters are bussed in from all over the country for the August tournament, sporting colorful happi coats festooned with regional badges.
It is the closest thing Japan has to a national festival. Everyone back home is watching — from the prefectural governor on down.
As longtime Yukan Fuji editor Kozo Abe puts it, "It's like the Super Bowl and the World Series rolled into one for Japan, and more. A truly special Japanese experience and there is nothing quite like it anywhere else."

Author: Robert Whiting
(This article was first published by Yukan Fuji in Japanese on October 23, 2018.)

Author:
Robert Whiting is the author of several highly acclaimed books on contemporary Japan, including the best-selling You Gotta Have Wa (MacMillan, 1989; Vintage, 2009) and Tokyo Underworld (Pantheon, 1999; Vintage Departures 2000), which describes organized crime in Japan and examines the corrupt side of the Japan-US relationship. The Meaning of Ichiro(Warner Books, 2005), describes the impact of the outfielder Ichiro Suzuki of the Seattle Mariners and other Japanese stars on U.S. baseball. Mr. Whiting first came to Japan in 1962 and has lived in Japan for nearly 40 of the past 56 years. He divides his time between Tokyo and the Central Coast of California.