News
2018-08-23
Koshien baseball match runners-up 'Kana-no' stay sizzling matter throughout Japan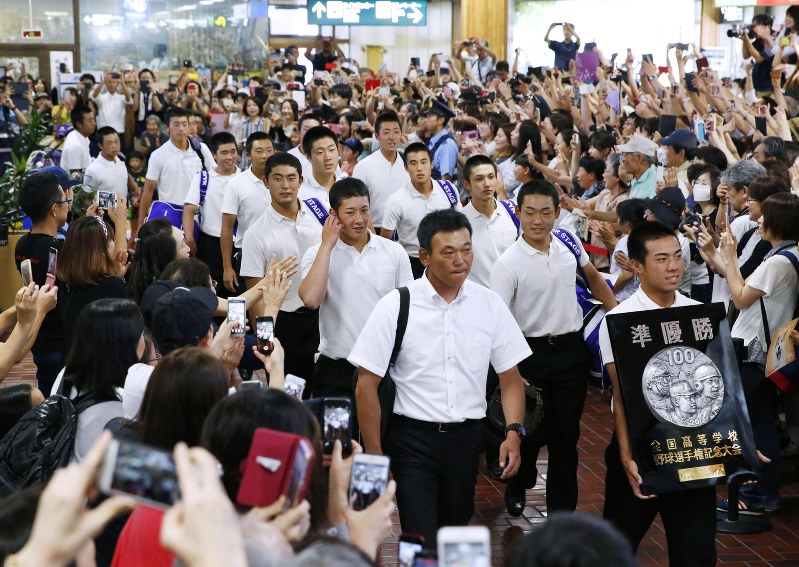 AKITA, Japan (Kyodo) -- A day after a northeastern Japan public agricultural high school finished second in the popular Koshien summer baseball tournament on Tuesday, the nation was still abuzz over its victories against powerhouse teams en route to the final.
Affectionately referred to as "Kana-no," the baseball team of Kanaashi Nogyo (agricultural) high school of Akita Prefecture was beaten 13-2 in the final of the National High School Baseball Championship by Osaka Toin high school, a private school that won its fifth title.
Notching up victory after victory, homegrown Kanaashi Nogyo beat traditionally strong teams made up of high-performing players brought in from outside their respective prefectures and was just one win away from becoming the first champion from the northeastern Tohoku region.
The team's feat caught the imagination of Akita residents, with a whiteboard set up at JR Akita Station in the city of Akita filled with messages applauding the players. One message read, "Congratulations," while another said, "Thank you for the dream and inspiration." Yet another message referred to the team as "the strongest public high school in history."
During the tournament, the school was swamped with phone calls and letters of encouragement.
According to a school official, other agricultural high schools across the country sent congratulatory telegrams. They also received a faxed message from a Hokkaido woman, whose son went to an agricultural school, praising Kanaashi Nogyo as a "star for all agricultural high schools in Japan."
As most of the Kanaashi Nogyo student body went to Koshien Stadium, the venue for the tournament in the western Japan city of Nishinomiya, to cheer on their team, the school had to change the start of the second semester from Tuesday to Thursday.
The team has also raised the spirits of local residents working in the agricultural sector. "They created an opportunity for farming and agricultural schools to shine," said Toru Nakaya, the chairman of the Central Union of Agricultural Cooperatives.
The Japan Agricultural News, a Japanese daily paper specializing in agriculture, devoted much of its space to Kanaashi Nogyo every time the team won and advanced to the next round.
In a rare move, it issued an electronic extra edition on Tuesday shortly after the final, displaying the headline, "Thank you Kana-no, distinguished second place, thank you for the inspiration."
Commented Daisuke Maeda, a staff writer who has covered the team, "It would make me happy if Kana-no's success inspires more people to enter agricultural schools and engage in farming."
A record 56 high schools participated in the 100th anniversary of the summer Koshien that started Aug. 5.