News
2018-08-15
Ecstatic cheers of fans in Koshien Stadium define sound of summer
August 14, 2018  The Asahi Shimbun(a daily column Vox Populi, Vox Dei,)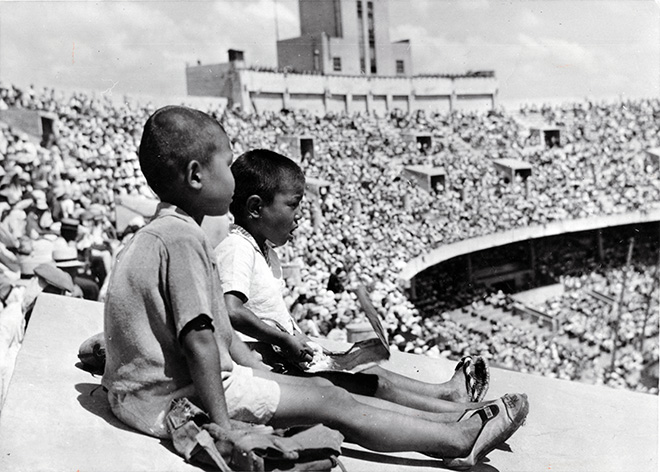 Osamu Kuroda was a member of the baseball team of Kyoto Prefectural Second Middle School (present-day Kyoto Prefectural Toba High School) on Aug. 15, 1946.
His school was the first one up in the series opener of the first post-World War II National High School Baseball Championship at Hankyu Nishinomiya Stadium. It was moved back the next year to Koshien Stadium.
In the morning of the Big Day, Kuroda's coach told him, "Kuro, you're batting leadoff."
Kuroda could not believe his ears, as that meant he was going to be the very first batter in the first postwar game. Stepping to the plate, he was so nervous, his arms practically locked up. He could not even swing the bat.
But he did get to first base--on a walk.
"The stands were packed with fans, wearing either summery white clothes or the khaki 'national uniform,' " Kuroda recalled.
Now 89, his recollections are still sharp. He remembers disabled veterans standing with donation boxes held to their chests; a U.S. military plane circling overhead during the game, dusting the stands with DDT to get rid of lice. And teams that won were delighted to receive gifts of rice from the teams that had been beaten by them.
Born and raised in Osaka, Kuroda was the older brother of the late Kiyoshi Kuroda, who devoted his energy to promoting peace campaigns while he was the city editor at the Yomiuri Shimbun's Osaka Head Office.
As youngsters, the Kuroda brothers together played a children's baseball game that didn't have a second base. Their home was burned to the ground in an air raid.
"When the long war was finally over, I was just delighted to be able to play baseball again," he said.
This year's summer tournament is the 100th in the series. The grounds of Koshien has layers of history of youthful ballplayers, including those who set dazzling records but perished in the war, dangerous sluggers who were intentionally walked repeatedly to their great dismay, and inconsolable members of teams that lost in the bottom of the ninth.
Walking around the stadium, I saw the famed "Yakyu To" (Baseball tower) behind the bleachers. The copper plate on the tower is inscribed with the names of champion schools, but for a certain period, there are no names. Inscribed there instead are the words, "(Games) suspended due to the worsening of the war."
A summer that must never be repeated is one without the sound of the bat connecting with the ball and the excited cheering of fans in the stands.
--The Asahi Shimbun, Aug. 14

* * *
Vox Populi, Vox Dei is a popular daily column that takes up a wide range of topics, including culture, arts and social trends and developments. Written by veteran Asahi Shimbun writers, the column provides useful perspectives on and insights into contemporary Japan and its culture.