News
2018-07-09
Team USA Clinches Series Victory with 7-6 Win Over Japan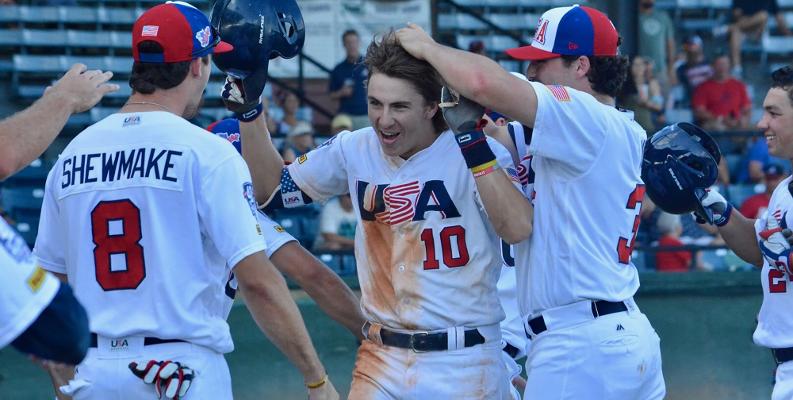 1 2 3 4 5 6 7 8 9 R H E
JPN 0 0 3 0 0 0 0 1 2 6 9 0
USA 0 0 0 0 0 3 2 2 X 7 12 2
Win: P. Caracci Loss: N. Shimizu Save: M. Meyer

MACON, Ga.  July 9, 2018 - Sparked by a mammoth two-run home run by Bryson Stott (UNLV), the USA Baseball Collegiate National Team bounced back from a three-run deficit and held off a furious ninth-inning rally to clinch the series win over Japan with a 7-6 victory at Luther Williams Field, home of the Macon Bacon.

Trailing 3-0 going into the sixth, the Team USA bats caught fire in the final three innings. After recording just two extra-base hits in the first three games of the series combined, the red, white, and blue had three doubles and two home runs in the last three frames on Sunday alone.

With its third win, the U.S. has officially clinched the 42nd U.S. vs. Japan Collegiate All-Star Series, improving its series record to 24-18, including a 21-1 mark in series held in the United States. The Collegiate National Team now holds a 127-105-2 record all-time in games against Japan.

After getting rained out in Charleston on Saturday, the fifth and final game between the U.S. and Japan has been rescheduled to take place at SunTrust Park, home of the Atlanta Braves, at 2:30 p.m. ET on Monday. The contest is open to the scouting community and those on the team pass list.