News
2018-07-05
Jung Lifts Team USA to 1-0 Win Over Japan on Fourth of July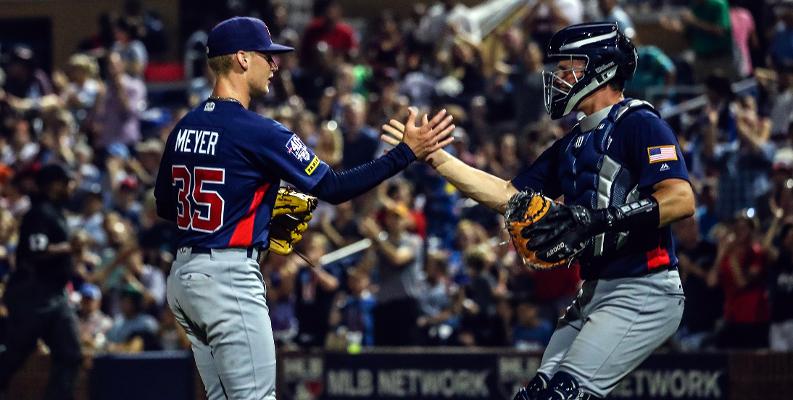 DURHAM, N.C. - Josh Jung (Texas Tech) brought the fireworks an inning early on Wednesday as he roped a two-strike, two-out RBI triple down the right-field line in the ninth inning to lift Team USA to a series-evening 1-0 win over Japan at the Durham Bulls Athletic Park on the Fourth of July.

Jung's clutch hit came on a day filled with outstanding pitching performances as the two teams combined for 27 strikeouts and just seven hits allowed. The U.S. victory brought the series back to even as Japan claimed the opener on Tuesday in Charlotte by an identical 1-0 score.

The two teams will take a day off to travel to Savannah, Ga., where they will continue the series with a 7 p.m. ET tilt at Grayson Stadium. Contests in Charleston, S.C., and Macon, Ga., on July 7 and 8, respectively will close out the 42nd USA vs. Japan Collegiate All-Star Series.

Five Team USA pitchers combined on the two-hit shutout. Zack Hess (LSU) got the starting nod and struck out four in three perfect innings before a rain delay of an hour and eight minutes ended his evening.



Local product Graeme Stinson (Duke) picked up right where he left off, fanning two of his own in 2.1 scoreless frames before handing the ball over to Parker Caracci (Ole Miss) who went 1.2 innings. He worked out of a particularly sticky jam in the sixth, entering the game with runners on the corners and just one out but he was able to get a flyout to shallow center and snared a bouncer back to him on the mound to escape unscathed.

Matt Cronin (Arkansas) then recorded the next five outs, getting the U.S. to within an out of victory, when the call was made for Max Meyer (Minnesota) to come in to face Japan cleanup hitter Yuma Tongu. He would promptly strike him out on three pitches to seal the victory and earn his third save of the summer.

For the second consecutive game, Japan got an outstanding effort out of its starting pitcher as Wataru Matsumoto scattered three hits and two walks while striking out 16 batters through seven scoreless frames.

QUOTES
USA Baseball CNT Manager Paul Mainieri
(On coaching Team USA on the Fourth of July)
"In the buildup to the game I didn't shy away from talking to the team about the importance of this game. This is our country's birthday and this is our sport. On our birthday there is no way we can lose to anybody. It was such a fun night and such a great game. I hope it is a day these kids and this staff will never forget. It was certainly one of the more fun days I've ever spent at the ballpark."

(On the team's pitching today)
We just pitched unbelievably all day. (Zack) Hess was dominant for three innings. Unfortunately we had to hook him because of the rain delay but (Graeme) Stinson came in and was outstanding for two innings. When he got in a jam, (Parker) Caracci came in and got us out of it. Matt Cronin was unbelievable. Coming back from a 3-1 count to the leadoff hitter in the ninth inning was enormous and then we brought in Max Meyer to go against their big power guy and he got a strikeout to end the ballgame.

(On the U.S. defense)
"If you want to pitch great you have to play great defense behind them. Pitchers can't do it alone. First of all, it starts with Adley Rutschman. He caught a tremendous ballgame. He just joined the team yesterday and jumped right in there like he has been here the whole time. He caught some really good arms and made it look like he's been catching them his whole life. All Adley does is win baseball games. He is just a gamer and a winner. Whoever he plays for is going to win a lot of games. I'm glad he is on our side now."

(On the Japan team)
"What a disciplined, fundamentally-sound ball club. They are one of the best teams I've ever coached against in all honesty. Their pitching is outstanding. They throw hard and they have an assortment of pitches. I don't think I've ever seen a team, for two games, change speeds as effectively as they have. Anything that you get against them you are going to be fortunate to get. It is a tremendous challenge for our hitters."

USA Baseball Third Baseman Josh Jung
(On his game-winning triple)
"When I hit that ball I was just hoping he wouldn't catch it. It looked like he got a good jump on it but to get that run across the plate and this team a win in such a tough battle was such an unbelievable feeling. Everyone was excited, the crowd was going wild and to hear them start chanting U-S-A was indescribable."

(On playing for Team USA on the Fourth of July)
"It is just such a huge honor to be wearing these colors on our nation's birthday and to be able to represent the men and women who have fought for the freedom's we have. To be able to play for them and our country is such an unbelievable feeling."

(On Japan starter Wataru Matsumoto)
"Their pitching staff is phenomenal. They seemingly have every pitch in the book. They are bringing it at us, throwing hard, mixing locations, and keeping us off balance. It is going to be tough all series but we know what they have now so we have to go up there and compete a little better than we have. Give credit to that guy, he was hitting his spots and did a great job but our team was just resilient tonight and I'm glad we got the 'W.'"