News
2018-07-04
Team USA Drops Opening Game Against Japan, 1-0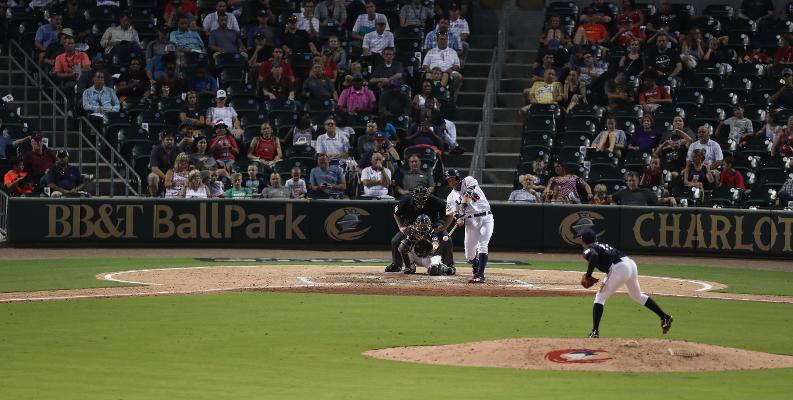 USA Baseball July 4, 2018、 CHARLOTTE, N.C. - The USA Baseball Collegiate National Team dropped a tightly-contested game to Japan, 1-0, as the two squads opened the 47th USA vs. Japan Collegiate All-Star Series on Tuesday night at BB&T Ballpark in Charlotte, North Carolina.
Both sides dominated on the mound as U.S. starter Drew Parrish (Florida State) threw 3.1 innings and Kyle Brnovich (Elon) hurled 2.2 frames, while giving up the lone run of the game and striking out four. Kenyon Yovan (Oregon) threw two scoreless innings of baseball, while Max Meyer (Minnesota) closed out the ninth by striking out two.
For Japan, starting pitcher Masato Morishita was terrific, facing just one batter over the minimum in five efficient innings. He yielded just one hit and a walk, while striking out two on a total of just 52 pitches.
Four relievers then combined to complete the four-hitter with Hiroshi Kaino earning the save after fanning two batters in a clean ninth inning.
At the dish for the U.S., Shea Langeliers (Baylor) ended the game going 2-for-3, while Josh Jung (Texas Tech) and Fletcher finished the night with one hit apiece.
The U.S. defense made multiple highlight-reel plays in the field, including shortstop Bryson Stott (UNLV) making a spectacular play at short in the fourth inning. With runners on first and third and two outs, the ball was hit to the left side of the infield when Stott ranged well into the hole and made the strong throw over to first just in time to get the third out of the inning and keep the game scoreless.
The only run of the game was scored in the sixth. After Toshiya Sato was hit by a pitch to open the frame, Ryoske Tatsumi singled to advance Sato to third. Tatsumi, however, was thrown out trying to stretch the hit to a double by USA right fielder Domonic Fletcher (Arkansas) who threw a strike to second to get the first out of the stanza.
Although Brnovich was able to get a big punchout to put two ous on the board, Yukiya Ito followed with a single to center field to bring the eventual deciding run across home plate.
The Team USA defense continued to shine in the seventh when a foul ball was popped up and first baseman Andrew Vaughn (California) sprinted over and reached his glove into the U.S. dugout to snag the ball for the first out of the inning.
The red, white and blue had a chance to tie it in the eighth after Shea Langeliers (Baylor) singled and Zach Watson (LSU) reached on an error with two outs to put runners on first and third. A long fly out by pinch-hitter Adley Rutschman (Oregon State) in the next at-bat extinguished the Team USA scoring threat though.
The stars and Stripes will continue its five-game series against Japan on Tuesday at 6:05 p.m. ET at the Durham Bulls Athletic Park in Durham, North Carolina. The game will be streamed on USABaseball.com, Facebook Live and USA Baseball YouTube page.
QUOTES
USA Baseball CNT Manager Paul Mainieri
(On the series opener against Japan)
"It really was a great ball game. Unfortunately we came up a little bit short but it's hard to win when you only have four hits. You have to credit a lot of that to the Japanese pitching. Their kids were phenomenal. The last guy that came in looked like a big leaguer. He was upper 90s with a great slider and a curveball. We had a couple chances, not much. With first and third in the eighth inning we put in Adley (Rutschman) and were hoping he was still hot from the College World Series. He had a good at-bat, laid off a couple of tough pitches and hit a ball fairly well to left field. It just didn't drop for us and that's baseball."
(On the positives to build on moving forward)
We came up a little bit short but I thought our kids pitched great and played tremendous defense. Bryson Stott made an amazing play to save a run. We were down one but it really could have been worse if not for our defense and some really clutch pitching. Unfortunately one was enough because their pitching just overmatched our hitting tonight. Tomorrow is a new day, our nation's birthday, and we are going to be ready to play. Our pitching will be just as good tomorrow and we just have to find a way to score some runs."