News
2018-01-11
The Final 2017 WBSC Baseball World Rankings
Japan, Korea and Chinese Taipei continue to be ranked top 10.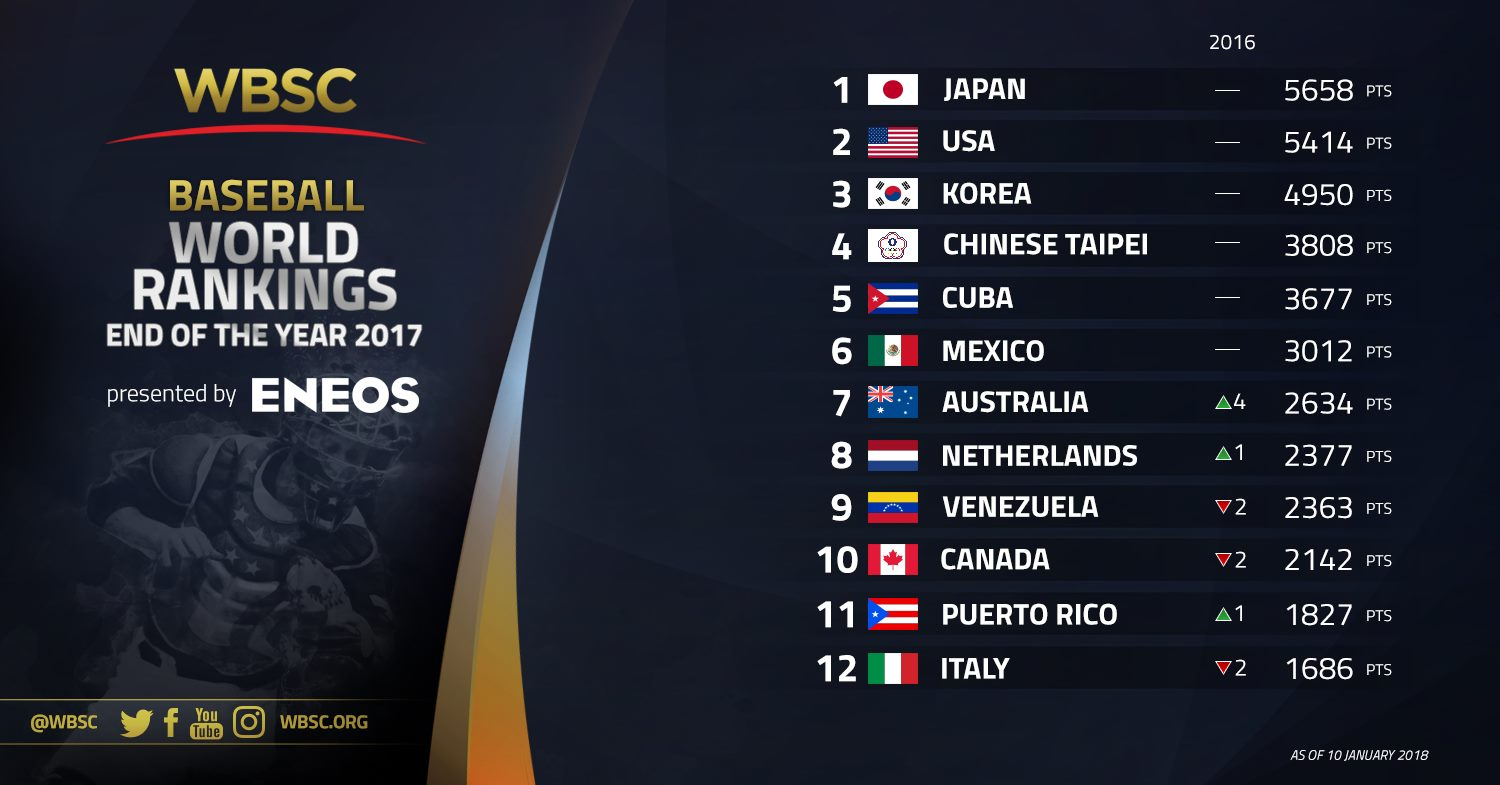 January 10, 2018 LAUSANNE, Switzerland -- The World Baseball Softball Confederation (WBSC) today unveiled the final 2017 standings in the WBSC Baseball World Rankings Presented by ENEOS, which weigh a country's National Team performance (from U-12 to Professional) in WBSC-sanctioned international competitions over a four-year period (2014-2017).

Japan remains the top-ranked nation for a third straight year, a position held since November 2014. USA Baseball squads, however, were the most successful in 2017, sweeping the world championships -- the U-12 Baseball World Cup, U-18 Baseball World Cup and World Baseball Classic -- to earn a record high 2,127 annual ranking points.

Members of Baseball Federation of Asia are ranked as follows:

22 China (-4), 26 Pakistan (-2), 31 Hong Kong (-5), 38 Thailand (-3), 40 Philippines (-6), 47 Indonesia (+1), 52 Sri Lanka (-), 55 Iran (-1), 58 Mongolia (-2), 63 India (-3), 68 Singapore (-2), 71 Iraq (-5) and 73 Nepal (new). Falling out of the World Rankings in 2017 are Afghanistan, Malaysia and Myanmar

The official 2018 international baseball calendar features two world championships that will have the biggest impact on this year's men's baseball world rankings: the U-15 Baseball World Cup (10-19 Aug.) in Panama City, Panama, and the U-23 Baseball World Cup (19-28 Oct.) in Managua, Nicaragua.

The Top 12 nations in the 2018 end-of-the-year WBSC Baseball World Rankings will qualify for the WBSC Premier12 2019, the men's professional baseball National Team global championship and Olympic Games Tokyo 2020 qualifier.