News
2017-11-27
NPB names former Tokyo Stock Exchange boss Atsushi Saito next commissioner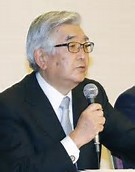 Kyodo Nov 27, 2017 Former securities exchange executive Atsushi Saito was approved as the next commissioner of Nippon Professional Baseball on Monday.
Saito, formerly the CEO of the Japan Exchange Group Inc. that oversees the operations of the Tokyo Stock Exchange and the Osaka Exchange, will take over from Katsuhiko Kumazaki, whose term runs through the end of this month.
NPB's commissioners, who are appointed by a meeting of the owners' committee, had been generally nominated by the Central League's Yomiuri Giants, whose former owner, Matsutaro Shoriki, virtually created Japan's current pro baseball establishment. But the Pacific League has been pressing for an NPB chief with a thorough business background, which Saito possesses.
Saito, 78, has been serving as an adviser to commissioner Kumazaki since July.
Kumazaki was a former high-profile prosecutor, while his predecessor, Ryozo Kato was Japan's former ambassador to the United States. Kato was forced out after his deputies secretly changed NPB's official ball in 2013 to make it livelier.
Kumazaki, who took over in January 2014, will take over as adviser to the new commissioner.