News
2017-10-27
Sports Minister Daichi SUZUKI Meets Hiroko YAMADA, Newly Elected WBSC Executive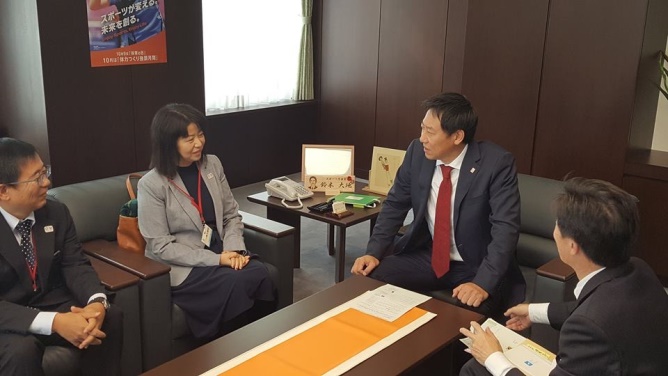 Sports Minister Daichi SUZUKI Meets Hiroko YAMADA, Newly Elected WBSC Executive

Hiroko YAMADA of Baseball Federation of Japan, accompanied by Secretary General Yutaka SHIBATA, visited Sports Minister Daichi SUZUKI on October 26 to thank his support at the recent election of the World Baseball Softball Confederation's Congress in Botswana where she was chosen to join the executive board of its baseball division. Asked by the Minister if she felt any difficulties working in a "male-dominated" environment, she assured him that the men are surprisingly gentle!

YAMADA said that she looks forward to taking on fresh challenges and will work hard to make baseball/softball events a big success at the 2020 Tokyo Olympics, and Minister SUZUKI pledged to bolster his support to her endeavor.

At her subsequent meeting with Deputy Sports Minister Yuzuru IMAZATO and Deputy Director General Yoko FUJIE, YAMADA expressed her wishes to find ways for Japanese baseball to contribute to the world in addition to holding on to the current World Ranking No. 1.

Sports Ministry aims to promote women's participation in the working world through sports.