News
2017-10-27
Fighters land rights to prized slugger Kiyomiya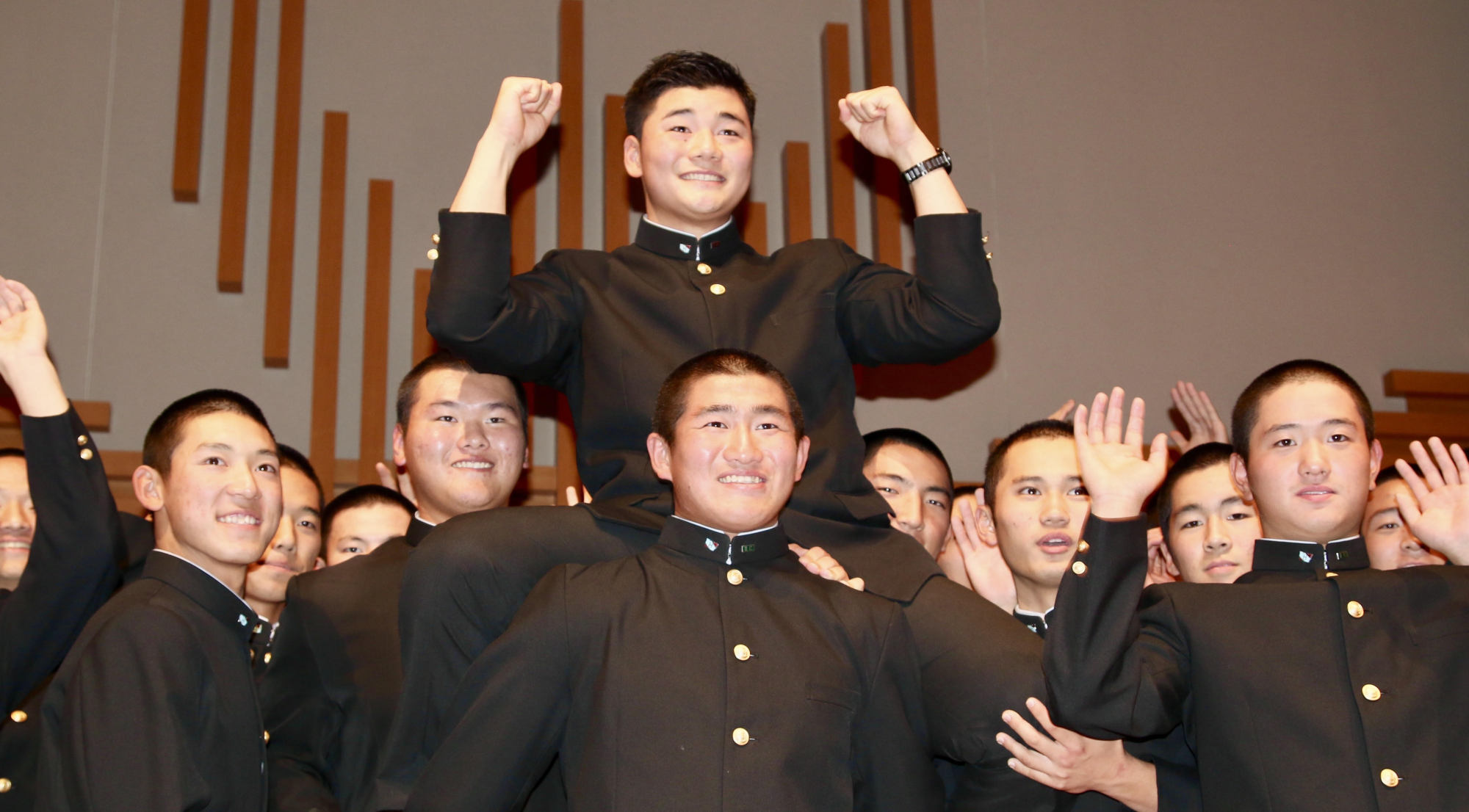 The most celebrated high school slugger in recent memory will don the colors of the Hokkaido Nippon Ham Fighters in 2018. Seven teams selected Kotaro Kiyomiya, the 18-year old superstar from Tokyo's Waseda Jitsugyo High School, during the first round of the 2017 NPB Draft on Thursday Oct 26, 2017 night. When the dust finally settled on weeks of speculation, it was Fighters assistant GM Masao Kida who drew the lucky card during the lottery for Kiyomiya's draft rights.

As the draft played out at a downtown hotel in Japan's bustling capital city, Kiyomiya watched from his school, located in the much sleepier western Tokyo suburb of Kokubunji. Clad in his black school uniform, he faced 150 media members, from 51 outlets, shortly after his destination was decided.
"I feel like I'm just at the starting line," Kiyomiya said. "I haven't achieved anything yet, so I would like to work to become the type of player others admire."
Kiyomiya was the most sought-after amateur in Japan after his years at Waseda Jitsugyo, which also counts Japanese baseball legend Sadaharu Oh and former amateur superstar Yuki Saito, currently a Fighters pitcher, as alumni.
He became a household name because of his slugging prowess, setting an unofficial high school record with 111 home runs during his prep years, including exhibitions and national team games. He played in 70 official high school contests and hit .405 with 29 home runs and 95 RBIs in 247 at-bats, according to Nikkan Sports.
"I achieved the record of 111 home runs, but pro baseball is a completely different world," he said. "I'm not going to rest on my laurels, and I want to train hard once I become a professional."
In being named by seven teams in the first round, Kiyomiya equaled Kosuke Fukudome's record for a high school player, set in 1995. He fell one shy of the overall mark, achieved by pitchers Hideo Nomo in 1989 and Hideo Koike in 1990.
"I was just watching it, so it feels surreal," Kiyomiya said. "It was an emotion like I've never felt."
In addition to the Fighters, the Chiba Lotte Marines, Fukuoka SoftBank Hawks, Tohoku Rakuten Golden Eagles, Hanshin Tigers, Tokyo Yakult Swallows and Yomiuri Giants threw their hats in the ring.
After missing out, the Marines won a three-team runoff for Riseisha High School infielder Hisanori Yasuda; the Swallows beat two teams to land Kyushu Gakuin infielder Munetaka Murakami; the Tigers prevailed in a three-team drawing for pitcher Kosuke Baba from Sendai University; and the Hawks won a two-team lottery for Haruto Yoshizumi, a pitcher from Tsuruoka Higashi High School. The Eagles landed pitcher Hiroki Kondo of Okayama Shoka University, while the Giants drafted Chuo University pitcher Takuya Kuwahara.
The Orix Buffaloes stayed out of the Kiyomiya sweepstakes and won a two-team lottery for JR Higashi Nihon pitcher Daiki Tajima. The Seibu Lions lost their own bid for Tajima and took pitcher Hiromasa Saito from Meiji University. The Hiroshima Carp edged the Chunichi Dragons for Koryo High School catcher Shosei Nakamura, with the Dragons then taking Yamaha pitcher Hiroshi Suzuki. The Yokohama BayStars were unopposed in their selection of Ritsumeikan lefty Katsuki Azuma.
Kiyomiya is the latest in a line of recent high school superstar players the Fighters have landed in the draft.
The team drafted pitcher Yu Darvish in 2005, slugger Sho Nakata in 2007, Saito in 2010 and two-way star Shohei Otani in 2014. Darvish and Otani have left a high standard to meet, and Nakata has been among Japan's top players as well.
"I know there are so many great players and it's not easy to play on the top team and get a regular position," Kiyomiya said when asked what kind of player he hoped to become. "That's what I'm hoping to do. I would hate for people to say, 'Kiyomiya isn't any good.' That would be a shame. I would rather they said, 'This team can't win without Kiyomiya.' "
Kiyomiya broke into the national consciousness as a 13-year-old in 2012. Already standing 183-cm, he starred as both a pitcher and a slugger for the Kitasuna (Tokyo) team that traveled to the U.S. and won the Little League World Series, where his size and play caught the attention of various U.S. media outlets. Prior to one contest, Kiyomiya was interviewed on camera by ESPN, telling the reporter, in English, he'd hit 60 home runs in 50 games that year.
Kiyomiya's fame exploded a few years later as he helped lead Waseda Jitsugyo to the final four of the National High School Baseball Championship as a freshman during the summer of 2015, his only appearance in the historic summer tournament held at Koshien stadium.
His fame hasn't waned one bit since then. On Thursday, his name became worldwide trending topic on Twitter during the draft.
Earlier this year, Kiyomiya was named captain of Japan's Under-18 Baseball World Cup team, and hit a pair of home runs during that tournament.
Kiyomiya announced his intention to turn pro during a news conference on Sept. 22. The decision was met with praise by NPB teams after speculation the young star might opt to attend college at Waseda University, where his father, Katsuyuki, was a rugby star, or even go to a college abroad. He's said he eventually hopes to play in the major leagues.