News
2017-08-30
Japan earns baseball gold at Summer Universiade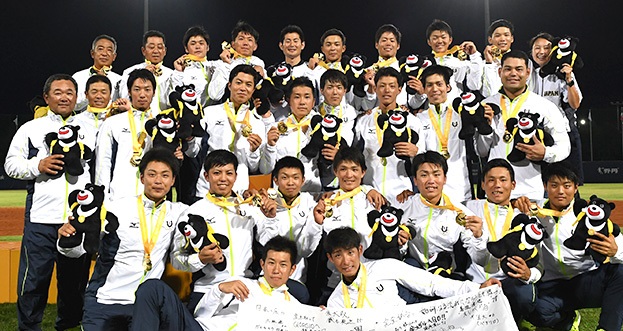 TAIPEI (Taiwan), Japan won the baseball tournament of the 2017 Summer Universiade, Korea secured the bronze medal.
Japan outscored (10-0) and outhit (10-3; left fielder Shimada, DH Kusumoto and center fielder Tatsumi had all multi hit games) USA in the final. Samurai broke the score open with a 6 run second inning against USA starter Lizarraga and reliever Dreyer and didn't need to look back. Masato Morishita earned the win pitching 7 strong innings (2 hits, 1 walk, 11 strike outs).
Korea defeated (6-2) Czech Republic, scoring the go ahead run in the fifth and breaking the score open with a 3 run eigth inning.
Korea played a perfect defense behind starting pitcher Yun Heeyeong, who went the distance allowing 2 runs on 7 hits and 2 walks, while striking out 8. Third baseman Choe Taeseong and left fielder Lee Kukpill both had a 3 hit game.
Michal Sobotka suffered the loss for Czech Republic, allowing 3 runs on 7 hits in a solid 6 inning outing. Korea scored 3 runs off reliever Cihlar. Third baseman Premek Chroust went 2 for 4.
France defeated (11-5) Mexico and finished seventh, while Chinese Taipei beat (7-1) Russia to finish fifth.