News
2017-08-05
Day-8 U-12 Baseball World Cup 2017
Atomanczyk takes USA back on track in the U-12 Baseball World Cup super round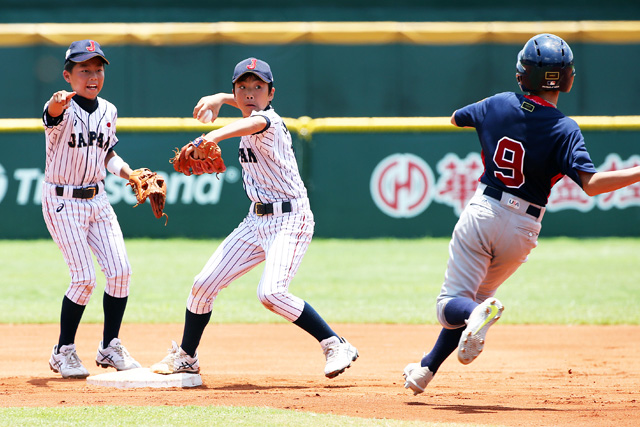 Joshua Atomanczyk did it all as USA beat (6-3) Japan in the U-12 Baseball World Cup super round. The starting pitcher earned the win going 5.1 innings and allowing only one earned run and hit 2 homers, producing 5 of the 6 runs scored by his team.
"I don't have enough fine words for Josh" said USA manager David Sharp after the game "He is a strong kid who wants to win for our country. But I also care to say that this was a team effort"
USA get on the scoreboard in a hurry. Center fielder Reiland leads off with a double on the third pitch served by Samurai starter Yamada. Reiland advances to third on shortstop Caranto groundout (second out) and scores on a base hit by first baseman Velazquez.
Joshua Atomanczyk, USA starter, helpes himself in the top of the third. With Reiland (base hit) on board, he gets to relevier Haruki Omaya fifth pitch and connects for a home run over the left field fence to extend his team's lead to 3-0.
Japan score their first run on their first hit, as catcher Daisuke Mori homers with 2 outs in the bottom of the third. Rightfielder Toi follows with a full count double and gets to third when Atomanczyk throws beyond second on a pick off attempt. After a coaching visit, Atomanczyk strikes out left fielder Yamaguchi to end the inning.
Atomanczyk plays a game of his own. As he steps to the box in the top of the fifth with runners at second and third and one out, Japan move their infield in. Atomanczyc works a full count and then is all over the next pitch by Koki Yamaguchi (third japanese pitcher). His blast clears the right field fence for a 3 run homer and makes it a 6-1 game.
A defensive error and a wild pitch put Atomanczyk into trouble in the bottom of the frame. Center fielder Okada singles in a run and a second scores on a comebacker to the mound by Mori. Atomanczyk boldly goes for the double play and actually overthrows. Shortstop Cafardo not only jumps to stop the ball, but also pivots to complete an athletic double play. USA get out of the inning on a fine running catch in foul territory by second baseman Butt on Tatsuya Kato pop up.
Atomanczyk gets the first out of the sixth and then lets Brandon Olivera face pinch hitter Teru Yoshida, moving to first base. The reliever uses 9 pitches to retire Yoshida and second baseman Otawa and pick up the save.