News
2016-12-25
Taiwan/Japan High School Exchange Series Kicked Off in Taichung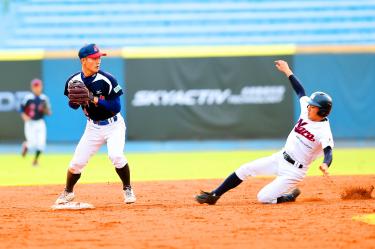 Following the success of inaugural MAZDA " TAIWAN/JAPAN H.S EXCHANGE SERIES" in Taipei in December 2015, the 2nd Exchange Series started at Taichung Stadium in Taichung on X'mas eve, Saturday December 24, 2016.
Kuo Tai Yuan, Taiwan's baseball legend, threw ceremonial first pitch before the start of the game
(by Taipei Times) Taoyuan's Ping Cheng High School prevailed 7-5 over the Nara Prefecture All-Star Team, which is composed mainly of players from Chiben Gakuen High School, in the opener for the Mazda Taiwan-Japan U18 Baseball Elite Invitational.
At the opening ceremony, Tom Peng, President of Baseball Federation of Asia thanked MAZDA for their strong support not only to this event but development of baseball among young athletes in Taiwan and this Exchange Series help promote international friendship.
Taichung Agricultural Senior High School, who finished second in Taiwan's Black Leopard Banner competition, to take on Riseisha High School from Osaka, Japan, champions of the Meiji Jingu Baseball Tournament in Tokyo on Sunday, December 25.