News
2016-11-19
University of Tsukuba, Dome Corporation look to change Japan college sports landscape with new deal
(The Japan Times by Kaz Nagatsuka November 18, 2016)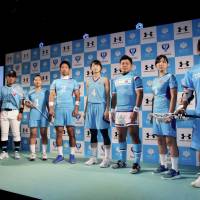 The University of Tsukuba wants to help revolutionize college sports in Japan, and setting up its own athletic department is a big part of that goal.
What's more, eight Tsukuba teams, including the school's baseball, football, rugby and women's basketball squads, will begin wearing newly designed Under Armour uniforms that feature the school's new unified logo. This recent development comes after the university finalized a partnership with Dome Corporation, the general agency in Japan for Under Armour, the Baltimore-based sports apparel company.
But the brand-new outfits and logo only scratch the surface of the arrangement. The two entities are looking to industrialize Japanese college sports through an academic-industrial collaboration.
One of the major moves they aim for is to establish a legitimate Tsukuba athletic department to control and administer all the athletic clubs, which is done at most U.S. universities.
Clubs at Japanese universities are private organizations, so schools don't have authority on personnel and accounting for the teams. But Tsukuba and Dome will try to change that out-of-date system and bring more governance by creating an athletic department that manages all the clubs and sports-related funds.
Tsukuba president Kyosuke Nagata said the university, whose main campus is in Tsukuba, Ibaraki Prefecture, intends to start its athletic department next year, though he thinks it will take more time to become fully operational. He stressed that once the university is able to make profits through sports, it would use those earnings to improve the academic environment, such as by hiring new professors. Some money could also be used to hire additional coaches for the athletic teams.
Nagata said the university could eventually invest money in disabled sports studies.
He added that when the athletic department is established, it'd be better to have support from Dome, including having people from the company use their expertise to demonstrate how to run the department.
"When it comes down to business, I know things wouldn't proceed with the things we've done," Nagata said. "So I think we should use every possible option within what a national university can do (using support from Dome)."
Official Japanese collegiate contests are run by their respective sports' collegiate federations and mostly held at neutral sites instead of a home-and-away format. That means schools can't really earn revenue from ticket sales, which Dome CEO Shuichi Yasuda called one of the deep-rooted issues in Japanese college sports.
But Nagata suggested that there are other ways to generate revenue through his university's sporting activities.
"We have some big (sporting) events," he said. "For example, when there's judo in the Olympics, we have foreign (judoka) train at our place to hold training camps. Maybe we can host a judo competition (with them) as a pre-event (for the Olympics), so the citizens as well as our judoka would be able to observe some of the top judoka.
"Also, our university is thinking of hosting physical measurement contests for local companies, utilizing our knowledge on medical and sports science. You can create some content (to generate revenue) like that."
Yasuda insisted college sports have big potential and should have greater exposure.
"Unlike high-school athletes, collegiate athletes, who are aged between 18 and 22, are in the highest educational system and concentrate their courage, physical abilities and intelligence to compete in sports, but it's really frustrating the fans don't really get to see them perform," Yasuda said. "People don't know who the national collegiate baseball champion team is, for example. Some barely know who it is for rugby.
"But federations rent stadiums and arenas to hold tournaments (at neutral sites), so they can't create fan bases. I believe they should do it with a home-and-away format. If that's realized, I think it's going to be like in America."
As part of the deal, Tsukuba and Dome will work on joint research with Philadelphia's Temple University, in which they study successful collegiate sports models, so Tsukuba can learn the best way to run its own athletic department. The ongoing research will continues until next March.
Tsukuba sports teams outside of the eight clubs that were introduced this time are expected to wear Under Armour jerseys once contracts with their current suppliers have expired.
Before securing its deal with Tsukuba, Dome finalized a similar partnership with Yokohama's Kanto Gakuin University in April.
The education ministry has acknowledged the importance of industrializing sports on a larger scale before and beyond the 2020 Tokyo Olympics. It has also started discussions about the establishment of a Japanese version of the NCAA, which governs university sports in America.