News
2016-08-15
Japan brings all-star squad to WBC in Canada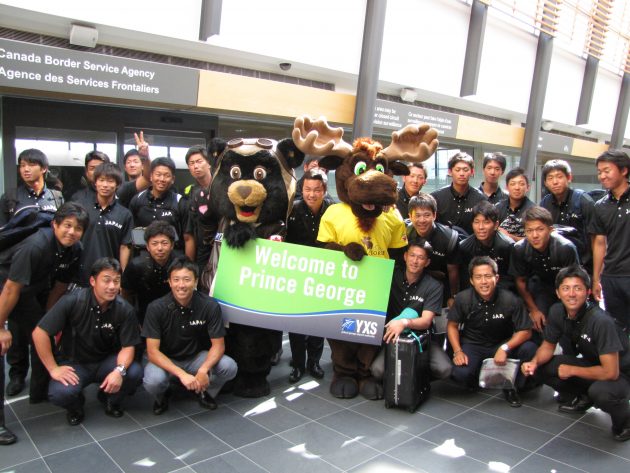 (Prince George Citizen on August 12, 2016) Three years ago at the World Baseball Challenge, Kimio Watanabe and his JX-Eneos teammates left the diamond at Citizen Field after a humbling 14-4 defeat to Cuba in the championship final.
As champions of the Industrial League in his native Japan, the trip to Prince George that year for the WBC tournament was his team's reward for a winning season and Watanabe knew they were a longshot to beat the heavily-favoured Cuban team - the Ciego de Avila Tigres.
"They were very strong, they had a lot of power, especially their batting," said Wattanabe, who hit a run-scoring triple in that final game against the Cubans. "They were very high-skilled."
Now as captain of the Team Japan, an all-star team made up of the best players in the Japanese Industrial League, the top amateur league in the country, Watanabe is the everyday shortstop for the team favoured by most to win the five-team WBC.
Three years ago, as a club team which did not have national team status, Eneos was allowed to pick just two players from the other teams. That year, as an all--star squad, Team Japan appears to have the tools to win it all.
"We have a very strong team - we were strong, too, three years ago - but this year we are a national team," said the 28-year-old Watanabe, who also plays second base. "Three years ago with Eneos we won the tournament games in Japan and the prize was to come here, so it was very easy. This time, as captain, I feel a strong responsibility to win with this team.
"We have good pitching, our defence is very strong and we have good speed," he said.
Ten of the players, including Watanabe, played on the Japanese national team which brought back the bronze medal from the 2015 Asian Games in Taiwan. The WBC is the only international tournament the team will play this year.
Japan will rely on its 32-year-old ace, Katsuto Satake, who is not a power pitcher, but has a wicked change-up and possesses great control.
"He is very clever," said Takamori Tsui, head of the Japanese Baseball Federation.
Another pitcher to watch is 21-year-old Taisuke Yamaoka, who has a 90 miles-per-hour fastball. According to Tsui, Yamaoka is likely to be taken in the Japanese professional draft this year.
"Our pitching staff is very good, but maybe our offence is so-so, our batting is weak," said Tsui, 58, a former national team outfielder.
The other teams involved in the tournament are the Thurston County Generals of Washington state, Roswell Invaders of New Mexico, and the Kamloops Sun Devils. Unlike 2013, there's no Cuba, Chinese Taipei (Taiwan) and no Team Canada. Previous WBC tournaments had national teams from the U.S., Bahamas and Germany.
"Eight countries took part in this tournament but when we came here there are three countries only - Japan, Canada, and America - it's disappointing," said Tsui.
Japan took batting practice Friday a couple hours before they took on Sidearm Nation of Calgary in the tournament-opener at Citizen Field. Japan practiced for three hours Thursday at Rotary Field. If Tsui had his way, the practices would last much longer.
"Japanese players always take a long time to practice and here we don't have enough practice time," said Tsui. "Maybe the other teams are familiar with short-time practices but we would like to have more. We ordinarily practice four of five hours. Fielding, batting, warm-up, cool-down takes a long time. Our defence may be better as a team because we practice harder. Maybe if we practice harder we will win the next Asian Games (in 2017)."
One of the perks of having the WBC in Prince George, from a spectators' standpoint, is the opportunity to watch teams like Japan in their pre-game warmups, which can be quite entertaining while the players show off their athleticism.
The Japanese players find the outfield walls at Citizen Field, especially in right field, quite a bit higher than what they are used to.
"It's a low fence in the stadiums in Japan, here you have the Green Monster," said Watanabe.
With games at 4 p.m. and 8 p.m. for most of the nine-day tournament Tsui has some concerns about his team playing the night game.
"There should be more lights in the stadium," he said. "In Japan the stadiums have a lot of lights. We are not satisfied. When it's dark we might not see the high fly balls."
The players like the uncrowded open spaces and the green parks of Prince George. Team host Dave Henley took Tsui for a walk on the trails of L.C. Gunn Park overlooking the Fraser River and they also went on a tour of Cottonwood Island and Connaught Hill Park. For the next nine days, Henley will be following the team's every step.
"You couldn't have a better group than that," Henley said. "They're so pleasant and they're just wonderful people to work with.
"They are very friendly, but not many of them speak English. That's why Takamori is my friend."