News
2016-07-16
Samurai Japan collegiate squad falls to U.S.
The Japan Timews by Jason Coskrey, Jul 15, 2016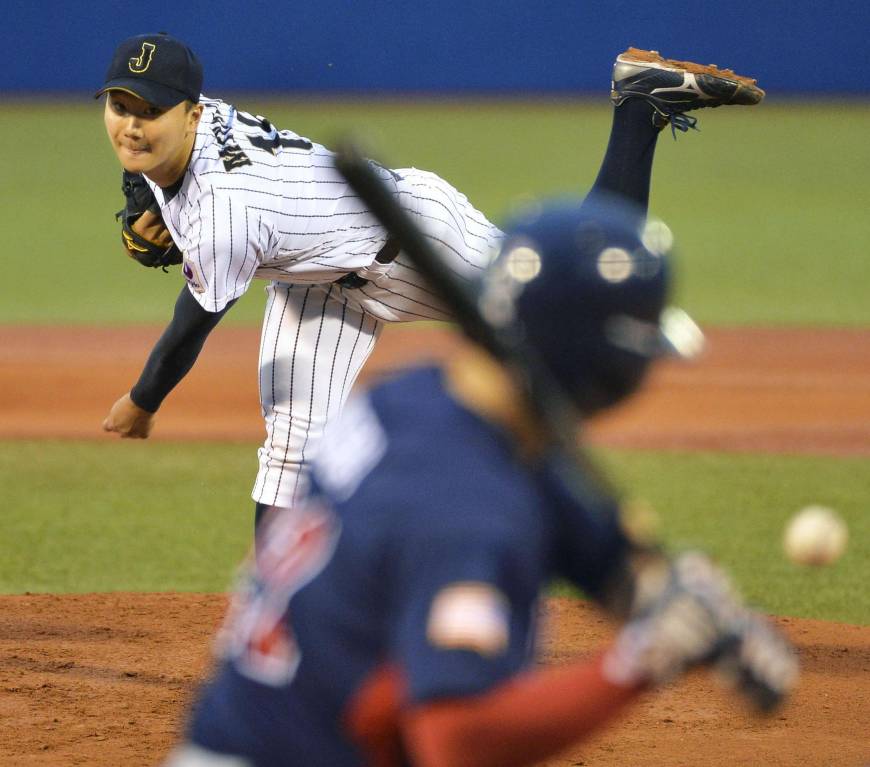 Samurai Japan Collegiate National Team starter Kohei Miyadai fires a pitch during Friday night's game against the USA Baseball Collegiate National Team at Jingu Stadium. The U.S. squad beat Japan 1-0 in Game 3 of their best-of-five series.
Kohei Miyadai has helped pull off some improbable wins for the University of Tokyo on the mound at Jingu Stadium this year. He traded in his Todai colors for the Hinomaru on Friday, but fell just short of being part of another magic moment.
U.S. outfielder Jeren Kendall drove in the only run of the game and Japan's Naoki Yoshikawa's long drive to center ended up as an out instead of a game-tying or sayonara hit, as the USA Baseball Collegiate National Team beat the Samurai Japan Collegiate National Team 1-0 on Friday night at Jingu Stadium. The Japanese lead the five-game series between the two nations 2-1.
"It just feels good to get the first one," said U.S. outfielder TJ Friedl. "It's a great win for us, great team win. A couple of tough losses our first two games, so it's good to get the first one under our belt and looking forward to the next two."
Miyadai, who was dazzling at times for the long-suffering University of Tokyo baseball team this year was charged with the loss after allowing one run over 3 2/3 innings.
"I was given the starting role, but didn't get the job done, so I'm disappointed," Miyadai said.
He struggled with his command early, walking the first batter of the game on four pitches. He settled down later, getting good movement on his fastball and beginning to miss bats with his off-speed pitches.
"I knew if I pitched to the corners, I'd do fine against them," Miyadai said. "So it felt good. But I walked the leadoff hitter in the first inning, and I wasn't quite the same as I normally am."
He left the game with two outs in the third and was charged with one run on three hits. He struck out five and walked two.
"He struggled with command at first, but I think once he settled in, you could tell he started to feel more comfortable on the mound," Friedl said. "I think those three or four innings, whatever he threw, he did good. I think the past two guys (Games 1 and 2 starters) had a lot more endurance and could go farther, but this guy, he was good."
Japan won the first two games of the series, which took place at Hard Off Eco Stadium in Niigata, winning 2-1 in the first game and 1-0 in Game 2.
"All three games have been tremendous games," said U.S. manager George Horton. "Pitching and defense, it's a little bit like watching a softball game in the olden days with not a whole lot of offense. But I think you tip your cap to the quality of the Japanese pitchers, the quality of the American pitchers and from pitch one to pitch whatever, you just know that it's probably going to be one pitch that determines win and lose. Unfortunately the first two games, we came up short."
Game 4 is scheduled to take place on Saturday in Shizuoka.
"We wanted to clinch (the series) before he Americans woke up," Japan manager Hitoki Yokoi said. "But we still have games to play. We'll take it one game at time."
This year marks the 40th time collegiate squads from the two nations have met in this series. Japan won the inaugural series in 1972, winning five of seven games, but the Americans hold a 22-17 edge overall.
Kendall hit an RBI double in the second to account for the Americans' only run of the game. Friedl reached base four times, with a walk, bunt single, single and double.
Starter Brendan McKay and Alex Lange each threw four scoreless innings for the U.S. and Tyler Johnson pitched around a walk and a double to close out the game in the ninth. Lange earned the win.
The Americans allowed just three hits, including a pair of doubles to Takuya Sato, and had to protect a one-run advantage from the second inning on.
"Brendan gave us a good start, and we were trying to extend to make it a little bit easier on our pitching staff," Horton said. "He passed the baton to Alex, and Alex was tremendous. He's a good fastball-curveball guy, and got some good mileage out of his changeup tonight. I thought he was effective in the zone and effective out of the zone, and that's called good pitching.
"Tyler did a nice job of staying in character. With the fans and the emotion and us trying to win, that's not as easy as it looks, to get a zero in that ninth inning. From Brenden to Alex to Tyler, that was quality stuff."
Staff writer Kaz Nagatsuka contributed to this report

---