News
2016-07-14
Yanagi Pitches Japan to 1-0 Win Over U.S.
Alex Faedo fans six in four strong innings as the U.S. starter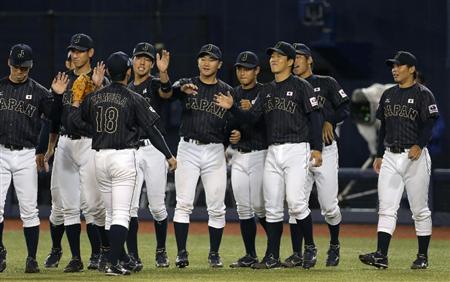 (USA BASEBALL in NIIGATA on July 13, 2016) - Japanese starting pitcher Yuya Yanagi struck out 12 over seven shutout innings to lead his team to a 1-0 win over the USA Baseball Collegiate National Team and a 2-0 lead in the series on Wednesday at Hard-Off Eco Stadium in Niigata.
Team USA was never able to find its rhythm against Yanagi who allowed just two hits and a pair of walks during his seven innings on the mound. Ichiro Tamura then took over and retired all six batters he faced over the final two frames to pick up his second save in as many days.
The effort by the U.S. pitching staff was nearly as perfect with four pitchers combining to yield only one run on five hits. Starter Alex Faedo (Florida) was filthy, striking out six in his four innings before handing the ball over to David Peterson (Oregon) who allowed two hits over the next three stanzas.
Kyle Wright (Vanderbilt) and Ricky Tyler Thomas (Fresno State) then closed out the contest with one scoreless inning each.
The only run of the game came in the fifth when a leadoff walk came around to score after a failed pickoff to first and a bouncing ball back up the middle past a pulled in infield by Japanese shortstop Yota Kyoda.

Team USA's only two hits were a two-out double by Brendan McKay (Louisville) in the fourth and a one-out single by Jeren Kendall (Vanderbilt) in the sixth. The squad's best scoring opportunity came in the fifth, however, after Yanagi issued back-to-back walks but a pop-up to foul territory at first ended that threat.
The U.S. and Japan will have a day off to travel to Tokyo tomorrow where the series will resume with game three at 6 p.m. local time/5 a.m. ET on Friday at Meiji Jingu Stadium. The pitching matchup will feature a pair of southpaws as McKay will get the ball for Team USA and Japan will counter with Kohei Miyadai.
QUOTES
Team USA field manager George Horton
(On Wednesday's game)
"This game was a repeat of yesterday with very good pitching by the Japanese team. We are frustrated offensively but that is because we are running into very good pitching. My frustration as the leader of this team is that we are not making adjustments. We are not tough outs. We are striking out way too much, nine of the first 11 batters struck out today. That is not very indicative of the talent of our baseball team. The intent today was to be tougher outs and put the ball in play much like the Japanese team did against us yesterday and we failed miserably on that. Tip your cap to the defense and pitching of the Japanese team."
(On the difference in the first two games of the series)
"Our pitching has been plenty good enough. Even though we gave up two runs yesterday it was on two groundballs, a hit batter and another groundball. The margin for error has been very slim because we are not putting enough pressure on the Japanese team offensively. It's not about our pitching or our defense but more about our approach as an offense and the mentality of that. It will be up to our young men to make an adjustment. We are much better than we have shown so far offensively."
Team USA starting pitcher Alex Faedo
(On pitching against Japan)
"I was happy to be able to keep our team in the game and keep the game tied when I came out. I wish the outcome had been better but I thought we pitched well and played great defense today. Just from watching yesterday's game I thought we came into today with a good scouting report and used that to our advantage on the mound today."
Team USA first baseman/left-handed pitcher Brendan McKay
(On his expectations for starting game three against Japan)
"Playing first base I've been able to get a little bit of an idea about what the Japanese hitters like to do, what their tendencies are and where some holes are that I can try to attack. I hope to use that to my advantage and mix it into my game plan."