News
2016-06-15
U.S. and Japanese Commissioners discuss baseball's possible return to Olympics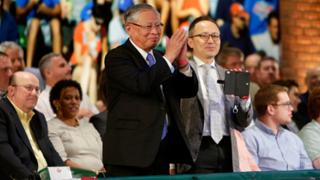 SECAUCUS, N.J. Thursday, June 9, 2016 - Major League Baseball Commissioner Rob
Manfred hosted his Nippon Professional Baseball counterpart Katsuhiko Kumazaki for a wide-ranging discussionof such mutual interests as baseball's possible return to the 2020 Summer Olympics and pace of play, and then the latter watched with interest as the former
read the first-round selections at MLB Network.
"The sport of baseball is the national pastime in Japan, too," Kumazaki said. "It's a culture, and at the same time, Olympics, the Japanese people love it. ... So to Japanese people, Olympic baseball is a love-and-love interest. Japanese people have a great interest in Olympics and probably all of Japan will celebrate when and if baseball comes back in the Olympics. I am looking forward to it.
"Together with the professional and amateur organization in Japan, we have been putting forward our best effort to help baseball back to the Olympics. These are all things I explained to Mr. Manfred this morning."
Kumazaki asked Manfred about the prospect of Major League players participating in the 2020 Olympics should the sport be reinstated. When asked about that possibility, Manfred said it is too early to speculate.
"The vote is going to take place, and it's an IOC decision. It's really not an MLB decision," Manfred said. "We will meet with the international baseball and softball federation people before the final vote to have a conversation about exactly what the program looks like, and at that point we will have a conversation with the owners about what we can and can't do.
"We think the Olympics is a really important event, and we think baseball being in the Olympics is really good for the sport. But until we know a little bit more about what the program is, how long the tournament is going to take, I'm just not going to comment on what's realistic and what's not."
In Japan, The Japan Professional Baseball Players Association (JPBPA) has requested that the Nippon Professional Baseball delay the start of the 2017 season by a week to help players better prepare for the competition.
Currently the Central and Pacific Leagues, which both consist of six teams, are scheduled to begin on March 31 in 2017. The JPBPA, represented by a negotiating team which included athletes, have asked for the leagues to now begin on April 7.
The 2017 World Baseball Classic, which is sanctioned by the World Baseball Softball Confederation, is still yet to be have the official schedule and competition venues announced.