News
2016-05-25
4 Japanese coaches in Philippines to train poor kids
By Sun Star Cebu Tuesday, May 24, 2016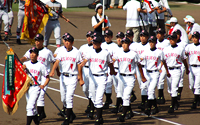 FOUR baseball coaches from Japan are in Cebu to conduct a baseball clinic for the grassroots kids. The two-day baseball clinic will start today in Balamban, Cebu.
The coaches are Takashi Kaneko, 58; Koichi Sato, 53; Ootake Norio, 53; and Yuji Takashashi, 53. The four coaches who arrived in Cebu yesterday night come from Nihon University Yagamata Senior High School Baseball Club.
The coaches will pay a courtesy call on Vice Gov. Agnes Magpale today, before heading to Balamban for the baseball clinic. During the courtesy call, the coaches will give the donated sports equipment for the kids.
The Nihon University Yagamata Baseball Club will be sharing out 32 different baseball items for a total of 785.
They will be giving 28 baseball globe, eight metal bats, 36 used balls, 114 spent ball, helmet and catchers, 18 baseball spike shoes, 24 training shoes, 11 top uniform, 23 bottom uniform, 35 under shirts, 35 socks, 24 t-shirts, 325 ballpoint pen, among others.
The Japanase batters will also have a courtesy call to Balamban Mayor Ace Stefan in the afternoon, before the start of the clinic.
The two-day baseball clinic starts at 2 p.m. until 5:30 p.m. at Mayor Exasperanza Binghay Sports Oval. The second day will be a whole-day activity from 8 a.m. to 5:30 p.m.
The head coach of the clinic is Kaneko, who is the director of the Japan Little Senior Middle School Student Baseball Association.
He will be assisted by Sato, who worked as an NTT coach and was also an outfielder and catcher at Nihon University Yamagata High School.
Norio is a member of a quasi-baseball club and active pitcher, catcher, outfielder and infielder.
Takahashi is a former baseball team captain of Nihon University Yamagata High School.