News
2016-01-19
BFJ Director M. Yamanaka and late T. Matsumoto of Meiji Univ. Were Among 5 Members Elected Into Japan's Hall of Fame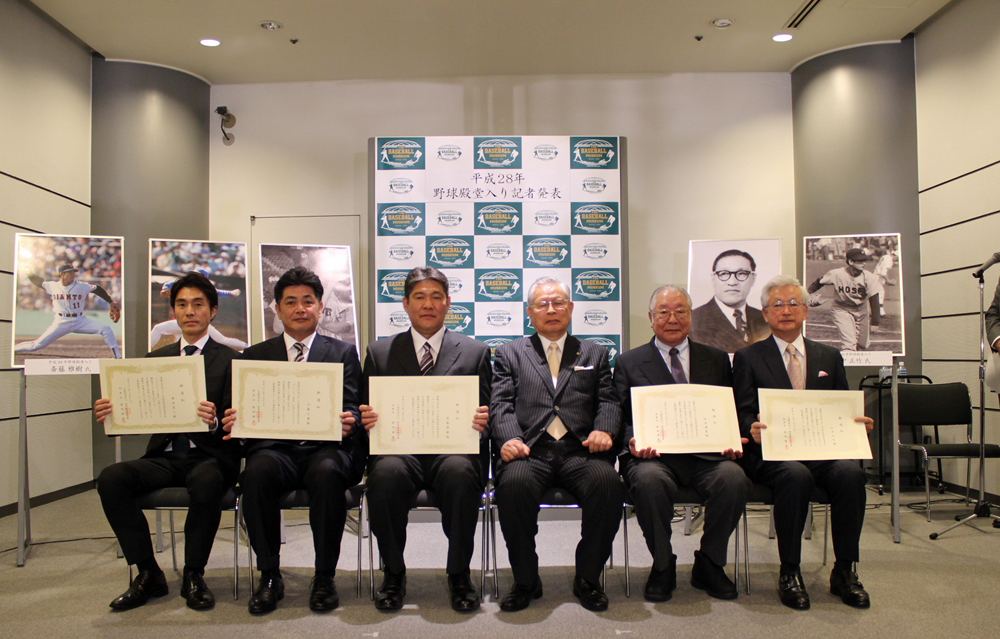 Japan's Baseball Hall of Fame and Museum announced on January 18, 2016 that Takizo Matsumoto (1901–1958), a former member of the House of the Representatives, and Masatake Yamanaka (68), who was the manager for the Japan's national team, were chosen by the Special Selection Committee along with three other members of professional players' category as the Hall's class of 2016.
Matsumoto spent his boyhood in California to finish Fresno Middle School in 1923 before returning to Hiroshima, studied at Meiji University in Tokyo from 1925 to 1930, brought its baseball team as a student manager on around-the-globe trip in 1929 and taught at Meiji University from 1932 to 1958. During the teaching time at Meiji, he graduated from Harvard Graduate School in 1938,
His brilliant carrier includes his involvement in international exchanges in baseball and other sports before and after the WWII such as Berlin Olympics, Helsinki Olympics, Asian Games in Manila, and All American Swimming Championship in Los Angeles in 1949. He helped invite the San Francisco Seals to Japan to play against Japanese clubs in 1949 as an administrator.
One for the books is his enormous contribution in resurrecting baseball as a national sport after the WWII. From 1946 to 1958, he served as a member of the Diet and was revered as citizen of the world of sports.
Masatake Yamanaka (68), a native of Oita Prefecture, famous amateur baseball skipper and amateur manager, led Team Japan to its first Olympic Medal in baseball at the Barcelona Olympics in 1992. As an ace pitcher at Hosei University, he holds an unbroken record of 48 wins in the Tokyo Big-Six League, played at Sumitomo Metal Baseball Club of industrial league and was its manager in 1981. From 1994 to 2002, he managed Hosei University and worked with NPB's Yokohama BayStars Club as Executive Managing Director in 2003. After retirement, he was an associate professor of Hosei University and currently serves as Director of Baseball Federation of Japan.
At the award ceremony, he said that his election would hopefully serve as an added momentum to the ongoing drive to bring baseball and softball back to Tokyo Olympic in 2020.
In professional baseball category, Masaki Saito and Kimiyasu Kudo, a pair of former MVP hurlers were voted into the Hall of Fame. Two-time batting champion Kihachi Enomoto was selected by the Expert Selection Committee. Enomoto, who died four years ago, amassed 2,314 hits in his pro career and the youngest hitter to have reached 2,000 hits, achieving the milestone at 31 years, 7 months.
The five will officially be inducted into the Baseball Hall of Fame later this year. The date will be announced later.