News
2015-12-24
Ehime Prefecture All Star team first arrived in Taiwan
(Free translation from website of Chinese Taipei Baseball Association in Chinese)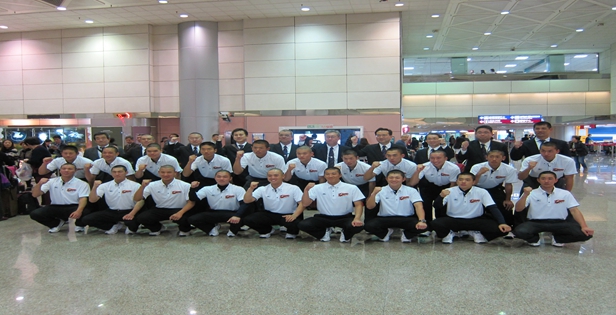 To participate in the 2015 MAZDA " TAIWAN/JAPAN H.S EXCHANGE SERIES" Ehime All star team today (23rd) first came to Taiwan, history of Ehime head coach Shigesawa and said: "Taiwan baseball impression in international competitions such as the classic game has good grades, there are many strong players, hope that we can play good games with the Taiwan team

Fukui and Yamagata have also arrived Taiwan tonight, three team tomorrow (24th) will to Xinzhuang baseball field do last adjustment, afternoon also arrangements 3 team head coach and players accept media interview, talk to Taiwan game of idea and team preparing for status, 25th began to series and this year Taiwan black Leopard flag Qian 3 name of high Yuan business, and Pingchen high school and Taniho home business vs, called end of most with top six of green Rod events.

Ehime Prefecture and Taiwan origin, not just the capital of Matsuyama and namesake, Songshan district, Taipei City, 1931 jianong expedition led by Kondo, General coach of the Koshien Ishihara, is from Ehime Prefecture, Matsuyama commercial College baseball team has held our alma mater, Ehime Prefecture, 13th Star team began training exercises, the players also appreciate the movie "KANO".

Now Matsuyama commercial college head coach Ze and history, said Ehime Prefecture has a large senior Kondo Ishihara, had heard his story, Ehime Governor also organizes incentives before you start Assembly to help players, Taiwan game how much pressure is there, but will encourage players to try to feel the game, and hope they can learn the game dedicated heart.

Captain of the Ehime mentianang Matsuyama Commercial H.S. players, hoping to learn predecessor taro Kondo soldiers in Taiwan to teach something, frankly nervous coming to Taiwan for the first time, he is holding an exchange study of mind and also was expecting to eat good food steamed bun.

Also is the first player to come to Taiwan on three do too, said Taiwan than Japan warmth, his teammates good training conditions, she also wants to use the Exchange confirms to what extent can play the game. Unique to Taiwan, on the three laughed and said, "want to see seniors Kondo stayed in place, as long as it is a delicious dish to eat. "Assembly gap arrangements in Ehime Prefecture in the afternoon players, to the Presidential Palace, sightseeing places such as Chiang Kai-shek Memorial Hall and Lungshan Temple.

Ehime Prefecture star team in the has many players, Imabari West University of mountain within Nathan within high on served as first sent 5th Rod left outside wild hand, serves its combat strength, attended Chai beauty University of catching hand small mountain a tree, not only good of passing arm, attack also has long playing capacity, from San Tin University of an infielder jumping to hand three Shang dry too and WADA Lotus Jiro although figure not highlight, but garrison, and combat and runner evaluation are good.

The to Taiwan 3 support Japan green Rod team to Fukui star team most by attention, is to won this year spring Jiazi Park contest winning of Nathan he gas than University for subject, main of three players is future Taiwan, array in the still has many players, guerrilla hand forest in the Yong Hui high on first sent playing third rod, this year help Nathan he gas than won spring Jiazi Park contest champion, summer Jiazi Park on Ming Deyi sook also hit out full base playing, not only is team Lord, is quite by looks forward to of big real guerrilla hand.

Fukui star team Ace pitcher is also from Nathan He Qibi of Yamazaki SA a lang, has 188 cm of perfect figure, most fast ball speed 144 km, except speed ball outside, also has kateqiu, and sliding ball and Ly, pitches, this year summer jiazi Park contest is team second, pitcher, on rolls East University 2 Council soared out 4 times three vibration, next year is expected to carry up main battle pitcher, 25th Fukui star team played black Leopard flag champion Kao Yuan business, has opportunities see Yamazaki SA a lang Deng Board voted ball.

Yamagata star team first amazing, array in the has bit famous of Suzuki a lang, but from Yamagata Central University of he just just and a lang name, wear Shang symbol ACE 1th, of is not pitcher, but attended wine Tin South University of outside wild hand Ishigaki sea, high on show good of combat strength, is team future fourth Rod candidates, crane Gang Dong University of pills Alexander is is has wide-angle attack capacity of strong playing who.

Yamagata star team also worth note of players is East big Yamagata University of pitcher Wakuda temperature bucket, 186 cm of figure quite tall, straight ball about in 135 to 140 km Zhijian, not special fast, but changes ball control capacity good, also can effective put pitches down, teammate River collection sea bucket not only can keep guerrilla, is name good of pitcher, are, worth 3 support Taiwan team strictly prevention.