News
2016-07-29
Japanese coach has big dreams for Senegal's Little League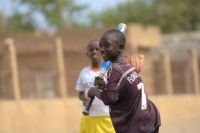 Senegalese children playing baseball on an improvised pitch in the impoverished Oukam neighbourhood of Dakar
?DAKAR?AFP Jul. 29, 2016?? Ryoma Ogawa learnt baseball on the manicured pitches of his native Japan, but the young coach has hit a home run in Senegal with a ragtag team of kids, cultivating the arts of batting and fielding.
Ogawa arrived in Senegal in January 2015, a baseball ambassador and former high school player volunteering on behalf of the Japan International Cooperation Agency, a development body.
Five days a week he drags a faded purple sack full of jumbled second-hand gloves, balls and bats to a sandy patch of land in Ouakam, a neighbourhood to the north of the capital Dakar.
His young players show up to practise in plastic sandals and jeans, and clear rubbish from the ground before play can begin.
There was not a single kid playing baseball here. There was a desire to play, but before I arrived they looked at baseball like it was a really weird thing, Ogawa told AFP.
There may be no bleachers, no jerseys, no helmets and not a blade of grass, but the atmosphere is convivial as the team develops the techniques of a sport that originated in the United States but has been played in Japan since the late 1800s.
Ogawas job isnt easy, especially with one significant barrier: My French isnt very good, but I repeat things a lot and I use a lot of gestures, the 24-year-old admitted.
Many of the childrenwho play for freeonly learn French at school, so the groups linguistic soup is also composed of Senegals dominant language, Wolof, along with English words spoken in a Japanese accent learnt from coach.
This can lead to some interesting mid-game commentary. Encore bene, cest un strike! (Another one its a strike!), Ogawa shouted, using all three at once.
Ibra Gueye is the teams Babe Ruth in the making, a skinny and shy 15-year-old who does extra sessions after hours with the hope of making it to the major leagues abroad.
I want to become a professional, to help my family, Gueye said, echoing the sentiments of many young men in Senegal who more traditionally see football and basketball as a route out of poverty.
Coach Ogawa is still schoolboyish himself, dressed in his home teams jerseyYokohamaand trainers while sporting a backwards baseball cap, rucksack firmly attached to his shoulders.
When he has trouble saying a word, we think about what he might mean, and we try to see if thats the one, explained Kader Deme, 16.
Japan and Senegals baseball romance first began when the west African nations struggling national federation and the Japanese agency made contact.
Today, Ibra Kadam, head of the Senegalese Baseball and Softball Federation, says the natural athleticism he has observed in the last few months could open up greater opportunities for the Dakar team.
They only started six months ago. And you see them, they know how to play. These kids, a year, two years from now, with the funding they deserve, I think there could be some great players, Kadam told AFP.
I think we could surprise the world, I say that in all modesty, Kadam added. Senegal has shown we can be world champions in judo, karate, taekwondo.
What Ogawa and Kadam fear most is the game being played in full view of this Senegalese Little League, just across a demarcation in the sand.
Football is close to a religion in Senegal, and with so many talented Senegalese in major European teams (Sadio Mane, Mohamed Diame, Oumar Niasse), even a slim chance of success seems more tangible.
Football is really important here, Ogawa said, eyeing boys kicking a ball dressed in proper jerseys and boots.
Baseball equipment is astronomically expensive, with a single glove costing up to 20,000 francs ($33) while a bat is 100,000 ($167)just under three months salary for the average Senegalese.
The lack of space for a baseball pitch among the cheek-by-jowl living situation of most Dakar residents does not help the sports cause.
Regardless, Ogawa is the third coach Japan has sent to Senegal as part of this baseball diplomacy initiative, and he hopes it will continue to bear fruit as the years pass.
What I hope is that they carry on playing, even when Im gone, he said. And one day, I hope to see them playing in Japan.


---