News
2016-07-07
Lefty gives Todai baseball fans something to cheer about
The Asahi Shimbun, July 7, 2016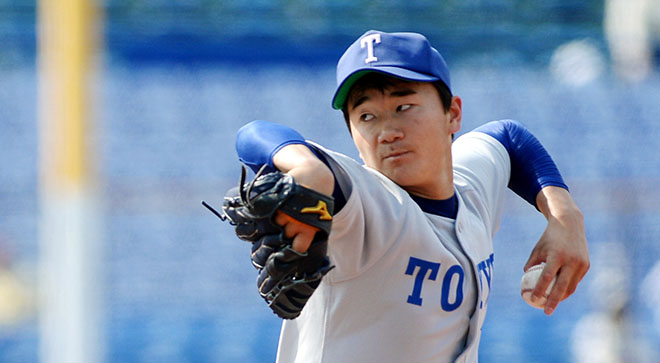 Kohei Miyadai, a junior at the University of Tokyo, is smart, studious and has aspirations for a career in civil service. But this stereotypical image of undergraduates who managed to enter Japans most prestigious university ends when Miyadai fires a 148-kph fastball that catches the corner of home plate.?The soft-spoken 21-year-old is the ace of the universitys baseball team.
Although the school, also called Todai, is known more for its brains than its brawn, Miyadais performance on the mound has drawn the interest of Japanese professional league scouts.Standing 178 centimeters tall and weighing 82 kilograms, the left-hander has been selected to the Samurai Japan collegiate national team for the 40th Japan-USA Collegiate Baseball Championship to be held in three Japanese cities from July 12 to 17.
He is the first player picked from Todai since Kensuke Okoshi made the national team in 1983. Okoshi is now an executive reporter of the News Department at Japan Broadcasting Corp. (NHK), Japans public broadcaster.?
Todai had three victories this season for the first time in 12 years in the Tokyo Big6 Baseball League consisting of six prominent universities in the Tokyo area. Miyadai picked up two of those wins.?During a loss against Waseda University, Miyadai notched 13 strikeouts, the highest total in the teams 98-year history.???I feel good when I strike out batters who came from strong high school baseball teams, Miyadai said.
Like so many other Japanese boys, Miyadais introduction to baseball came from playing catch with his father, when he was a third-grader at elementary school.??In his third year at Kanagawa prefectural Shonan High School, Miyadais team advanced to the third round of the Kanagawa prefectural high school baseball summer tournament.?Off the diamond, Miyadai was buried in textbooks. His marks were in the top 10 of his grade, but his studying intensified when he decided to go on to Todai.??I wanted to continue playing baseball because I was unable to give my best when I was in high school, he said. I strived to be No. 1 in studies first.
After gaining acceptance at the University of Tokyo, Miyadai found more time to focus on pitching.He has increased the speed of his pitches by 9 kph since entering Todai. He throws with such power that his left leg makes a loop in the air on the follow-through.??Enrolled at the universitys law faculty, Miyadai said he is also interested in becoming a bureaucrat who can steer the nation after graduation.??Our society comprises various people, he said. I want to learn laws that can solve problems related to human relationships.
In his spare time, he reads contemporary novels.??I found Kinkakuji (The Temple of the Golden Pavillion) written by Yukio Mishima was too difficult for me, a humble Miyadai said, smiling wryly.??He also said there is still much work to do before he can excel in both academics and sports.??Recently, Ive been playing too much baseball and not doing enough studying, he said. I have yet to strike a balance between the two.

---