News
2016-06-09
Yokosuka pro baseball scouting clinic continues to grow
By James Kimber ?Stars and Stripes? Published: June 8, 2016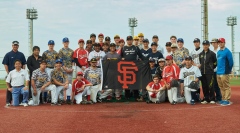 Keiichi Yabu, center, MLB scouts and Far East Baseball players from as far away as Seoul, South Korea, attend a pro-scout clinic at Nile C. Kinnick High School in Yokosuka, Japan, Sunday, June 5, 2016. The unfunded, all-volunteer clinic is in its fifth year.
NAVAL BASE YOKOSUKA, Japan Rain can postpone a game, but it couldnt stop the fifth annual Kinnick High School pro baseball scouting clinic.??More than 30 athletes from nine Far East schools attended the camp Sunday that boasted a former big-league pitcher, an infielder who played professionally in Korea and scouts from the San Francisco Giants, Minnesota Twins, Philadelphia Phillies, Cleveland Indians and Detroit Tigers. The scouts ran the athletes through drills and recorded combine results before letting the players loose to play in an exhibition game.
Yabu, the clinics pitching coach, is the main draw. His resume includes a 10-year career with the NPBs Hanshin Tigers, where he was named Central League Rookie of the Year in 1994, and two seasons with the Oakland As and San Francisco Giants before returning to Japan to finish out his career with the Rakuten Eagles.
Ive watched some of these players grow and develop into better players, the sturdy 47-year-old righty said through a translator. I keep coming back to see if they listened, digested what I told them to do and executed it. If so, I can refine and tailor my coaching.
David Kim, a scout for the Minnesota Twins who played six seasons in Korea with the LG Twins and Doosan Bears, has volunteered for the last three clinics and is considered the keystone. The one-time infielder with a trademark visor runs drills for four positions simultaneously, often directing more than three-fourths of the attendees at the same time.
Each year, participation in the clinic has grown. Only a small handful of schools who compete in Far East Baseball have yet to send players, and coaches and scouts from other professional teams are always encouraged to attend.
?Read the full story on Stars & Stripes?

---