News
2016-02-06
Boston Red Sox president and CEO emeritus Larry Lucchino says MLB not an easy move for Japanese players
By The Japan Times Jason Coskrey Feb 4, 2016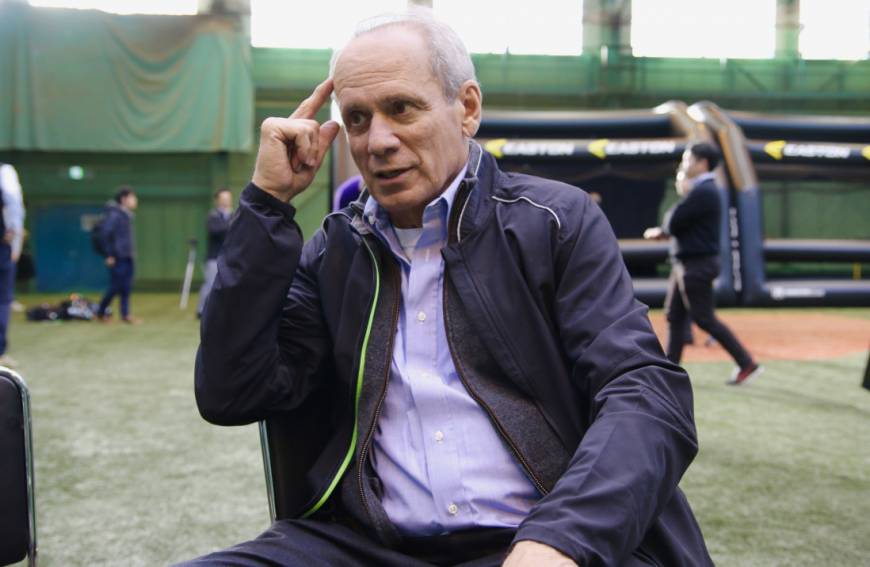 Boston Red Sox president and CEO emeritus Larry Lucchino speaks to The Japan Times on Tuesday in Tokyo.
Larry Lucchino is very comfortable in Japan and its no wonder why. Lucchino presided over one of the most successful periods in the history of the Boston Red Sox franchise, as the teams president and CEO from 2002-2015, and many of the Japanese players he helped bring on board played a role during those years.

I have to say thank you to some of the players from Japanese baseball who helped us win a series of World Series rings with the Boston Red Sox, Lucchino said during a news conference for U.S. sports manufacturer Easton on Tuesday at the Tokyo Yakult Swallows indoor practice facility. Daisuke Matsuzaka is, of course, in part responsible for this 2007 ring and we would not have won in 2013, and gotten another ring, without the contributions of Koji Uehara and Junichi Tazawa.

Lucchino has the time to visit Japan more often if he wishes, since he stepped down from his position with the Red Sox after the 2015 season. Lucchino was previously an executive with the Baltimore Orioles (1988-1993) and San Diego Padres (1995-2001) before joining the Red Sox in 2002. His 14-year tenure in Boston came with three World Series championships, including the 2004 triumph that broke the 86-year Curse of the Bambino, the clubs infamous title drought. He was named Red Sox president and CEO emeritus effective Oct. 16, 2015.

Hes in Japan this week in his role as a board member of Performance Sports Group, the parent company of Easton, which on Tuesday announced it was entering the Japanese market.

This is my second year on the board and Im able to recognize some of the advantages that Easton has in terms of research and development because Ive spent a lifetime in baseball, Lucchino told The Japan Times.

He knows a thing or two about Japan, having made many visits to the country, including in 2008, when the Red Sox opened the MLB season against the Oakland Athletics at Tokyo Dome.

In addition to Matsuzaka, Tazawa and Uehara, the Red Sox also brought in Hideki Okajima and Takashi Saito (a player who, like Uehara, came from another MLB club) during the Lucchino years. The club employed full-time translators and even a Japanese chef to make the players feel more comfortable. Lucchino said Japanese players past, present and future face a number of issues when they make the jump to the major leagues.

We shouldnt underestimate how hard it is to acclimate to a new language, new food, new cultural data coming at you all the time, Lucchino said. I never cease to be amazed at how well foreign players, particularly Japanese players, do under those circumstances.

He also noted the challenges players and teams sometimes face when cultures collide.

Theres a question, always, on the baseball side: do you let him play and pitch and practice the way he did in Japan, or do you encourage him to adjust to American methods, Lucchino said. Sometimes, weve done both. I dont know which is the answer, maybe its an individual issue.

It can be a tug of war. Too often, in my opinion, American teams try to impose American standards and American methodologies. Maybe they would be better off being a little more open-minded.

These days, Lucchino, 70, is plotting his path as he moves into the next phase of his life and career.

I keep an office at Fenway, and I keep an office at Pawtucket, our Triple-A team, Lucchino said. Other than that, I try to keep myself occupied with things like Performance Sports Group, which is right up my alley. Its the first year, Im trying to find out how well it works and how much I can do and how much I shouldnt do. Because after 36 years as a baseball executive, I want to get away from 24/7.

In January, Lucchino was announced as one of the members of the 2016 class of the Red Sox Hall of Fame. Hes also working as chairman of the Pawtucket Red Sox, the teams Triple-A affiliate.

That role hasnt been without some controversy, mainly stemming from a plan by the clubs new ownership group to move the team from Pawtucket, Rhode Island, to a new site in downtown Providence, the states capital. That plan died in September. The PawSox began the process of reconciling with Pawtucket fans in an open letter, co-signed by Lucchino and Pawtucket mayor Donald Grebien, that was published Monday.

I think that weve pressed the restart button in trying to take a fresh look at Pawtucket and McCoy Stadium, and to try to run the team more successfully this year, Lucchino said. Its been in a bit of a decline in recent years.

So we want to reverse that, make it a baseball and entertainment success. But also make sure it plays a major role in the development of young talent for the Red Sox.

---