News
2015-12-21
Ehime H.S. All Stars Getting Ready for Taiwan Series
December 21, 2015 The Asahi Shimbun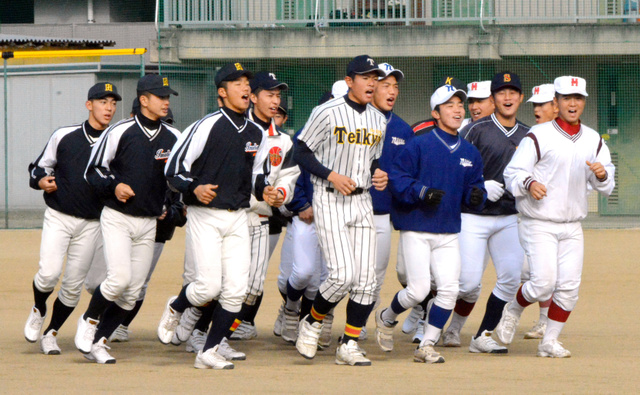 Ehime High School Baseball All Star Team assembled for a joint training at Matsuyama Commercial High Schools ground on December 20. They will travel to Taiwan to play friendly games against the 3 top teams of Taiwanese National Championship toward the end of December.

The 20 players have been selected from the 8 top high schools at the prefectural championship this autumn, including Matsuyama Commercial H.S. and Nitta H.S. which were associated with legendary Mr. Hyotaro KONDO who managed KANO of Taiwan at the summer Koshien before the war. During the practice session on Sunday, the players aimed for close fielding work among infielders and outfielders.

On batting, they familiarized themselves with wood bat to be used for the friendly games instead of metal bat they usually use in Japan. Kanta MIKAMI of Nitta H.S. (2nd year), vice captain, in trying the feel of wood bat mentioned unless you square contact, ball would not travel very far.

The All Star team will leave Matsuyama on December 22nd, play friendly games on 25th and return home on 29th. In anticipation, Manager Kazufumi SHIGEZAWA (47), Matsuyama Commercial H.S., said I will strive to win all 3 games by highlighting each boys good point.

---